These homemade sausage patties are amazing, and believe me when I tell you that it is so hard to beat homemade.
With just a few spices, ground pork and bacon (yes, we need just a little bit of bacon fat here!), these guys are simply perfect. Not to mention, they are completely freezer-friendly, giving you 100% breakfast insurance down the road.
---
INGREDIENTS: 
1 tablespoon chopped fresh sage leaves
2 teaspoons chopped fresh thyme leaves
1 teaspoon fennel seeds, crushed
1/2 teaspoon crushed red pepper flakes, optional
1/8 teaspoon ground nutmeg
Kosher salt and freshly ground black pepper, to taste
1 1/2 pounds ground pork
3 slices (uncooked) bacon, diced
2 tablespoons maple syrup, optional
1 tablespoon canola oil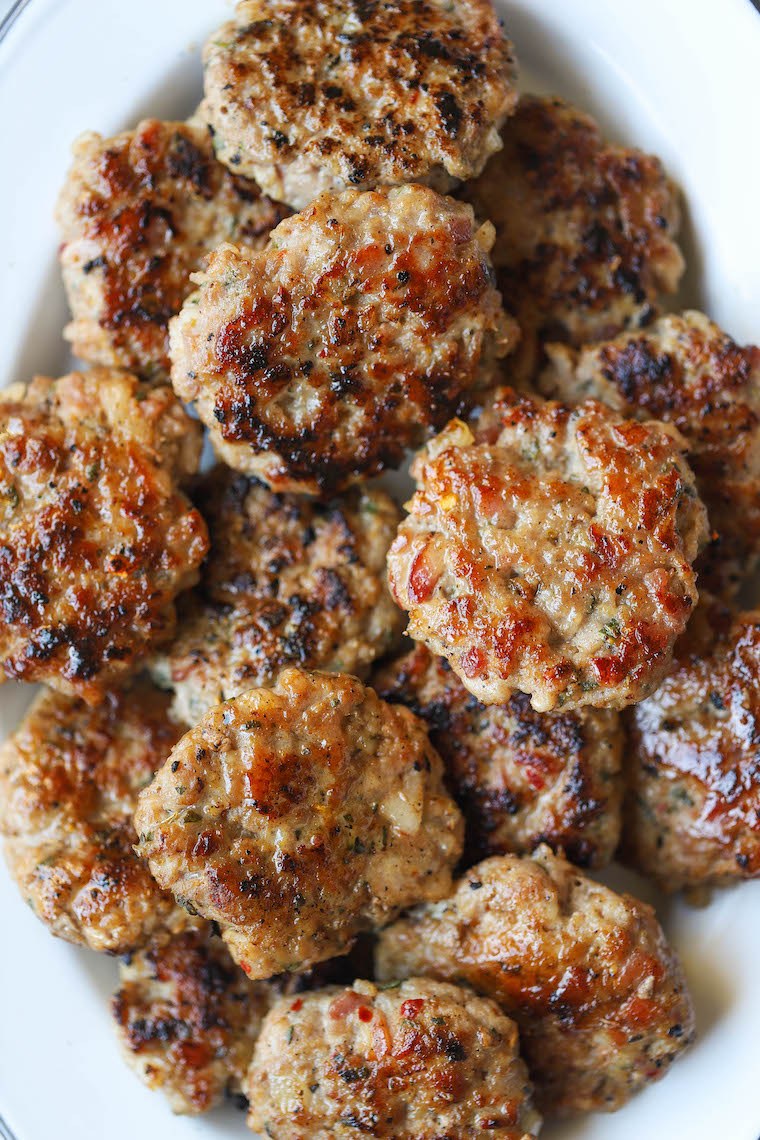 DIRECTIONS:
SAGE MIXTURE: In a small bowl, combine sage, thyme, fennel seeds, red pepper flakes, nutmeg, 1 1/2 teaspoons salt and 1 teaspoon pepper.
In a large bowl, combine pork, bacon, maple syrup and SAGE MIXTURE; be careful not to over mix.
To shape the patties, scoop out 1/4 cup (about 2 ounces) of pork mixture and flatten to create 2 1/2- to 3-inch wide patties, forming about 16 patties.*
Heat canola oil in a large skillet over medium heat. Add sausage patties and cook until browned, about 2-3 minutes per side.
NOTES:
*TO FREEZE: Uncooked sausage patties can be frozen between sheets of parchment paper for up to 1 month. Cook over medium low heat, turning often, until browned and cooked through, about 10 minutes. DO NOT THAW.