We've put together the ultimate reference guide filled with a global list of spices, from the basics to the hard-to-find.  All chefs should have a very good understanding and knowledge about the type of spices and their use in cooking. Ready to get cooking? 
Spices: The term spice comes from Latin meaning 'Fruits of the earth'. Spices, as distinguished from herbs, are derived from various part of the plants. For example, Cinnamon is taken from the bark, cloves from the buds, saffrons from the flower, allspice from the fruit, ginger from the root, mustard from the seed etc.
Herbs: Herbs are the second category of flavouring agents used in the food, the term herbs come from Latin meaning 'Grass'. Herbs are defined as the leaves and stems of soft-stemmed, non-woody plants. Example Savory, Sage, Thyme, Rosemary, Oregano etc.
Toss Out Old Spices: A Storage Guide
Is your spice drawer out of control with random bottles, bags, and boxes of spices jammed together? Here's a guide on how to take stock of what you have, figure out what to keep or throw out, and how to get your spices organized.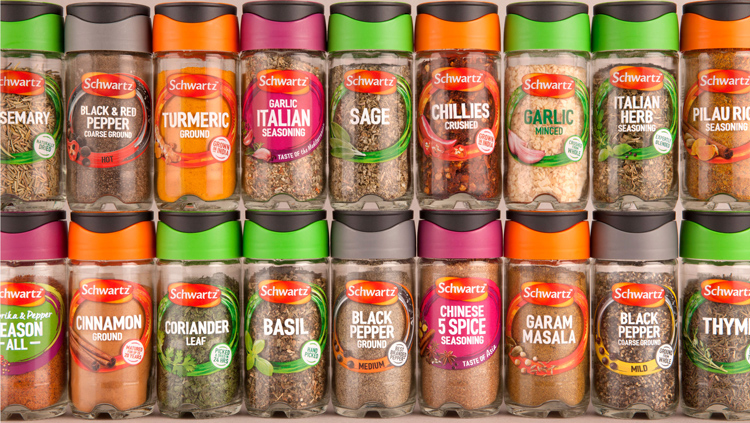 1. Throw Out Your Old Spices
Unlike fresh food, spices don't actually spoil or go bad. But they do lose flavor and potency over time. Old spices won't season your cooking well and can contribute to musky, odd flavors to your dishes.
Not sure how long you've had those Indian spices and can't find an expiration date? Use your senses.  Maximum flavor = aroma + storage + color.
The smell test: Sprinkle the spice or herb in your hand. Is the aroma weak? Is the flavor apparent? If not, it's time to replace.
The color test: Is the color of your herb or spice vibrant? If it has faded, chances are, so has the flavor.
Store herbs and spices in tightly capped containers and keep away from heat, moisture, and direct sunlight. Replace bottle lids tightly, immediately after use. Here are the suggested shelf lives of each spice category:
Ground spices and blends (nutmeg, cinnamon, turmeric): 4 to 8 months
Herbs (basil, oregano, parsley): 1 to 2 years
Whole spices (cloves, peppercorns, cinnamon sticks): 4 years
Seeds: 4 years (except for poppy and sesame seeds, which should be discarded after 2 years)
Extracts: 4 years (except for vanilla, which will last forever) 
2. Clean and Consolidate
When you're tossing out the old spices, set aside any bottles that you may want to keep. Depending on your cooking style, you may want to keep them within easy reach so you can refill as needed. Which spices do you use regularly? Which spices are just used for certain occasions?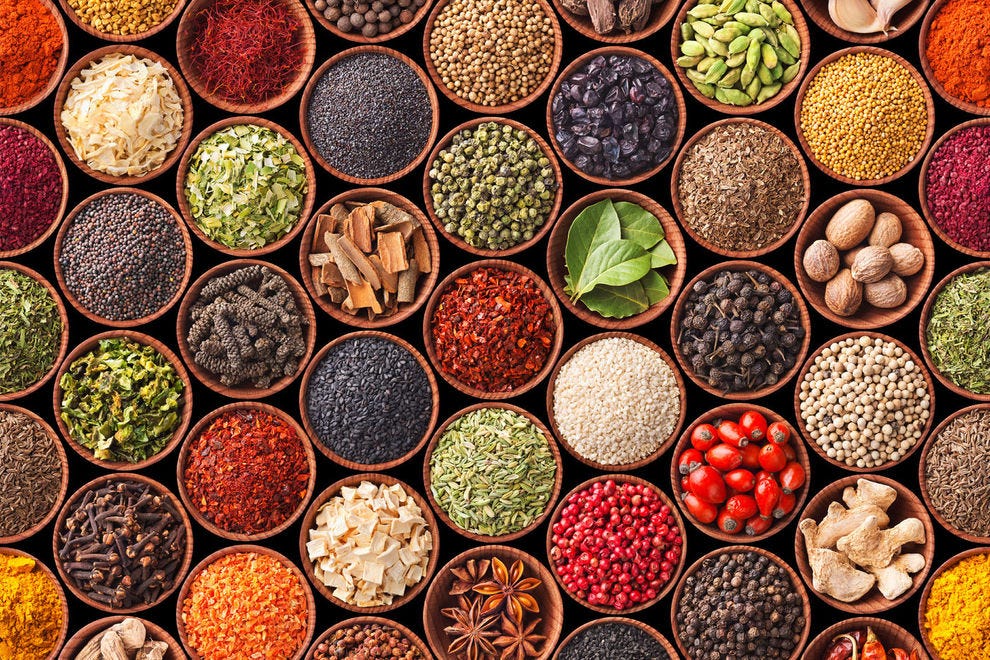 The Ultimate List of Spices
Essential Spices
Coriander - Cumin seeds are nutty and typically added to spice blends. Often toasted before being ground, add to meat rubs, curries, breads.
Star anise - Try adding freshly ground star anise to baked goods, soups and stews- it pairs equally well with red meats and duck as it does with grilled fruit, apple pies or muffins.
Smoked Paprika - The best way to get maximum flavor from these smoked paprika peppers is to heat in oil before using. We love this in deviled eggs, potato salad, roasted potatoes, and meat braises.
Turmeric Powder - Adds a rich, woody flavor to Indian curries, lentil stews, rice and vegetables like onions and tomatoes. We love adding turmeric powder to smoothies, sauces and baked goods as well.
Allspice - Allspice berries reflect their name, with flavors of cinnamon, cloves, nutmeg, and black peppercorns. Its complex sweetness makes allspice berries versatile in both sweet and savory dishes- add ground allspice Jamaican jerk rubs and stews to spice cakes, cookies, and grilled fruits.
Nutmeg - Nutmeg in the US is a classic baking spice but can be freshly grated into cream sauces, custard, eggnogs, whipped cream, roasted vegetable dishes, stewed greens or infuse ground nutmeg into mulling spices, tea or coffee.
Ginger - Ginger root has a sharply sweet, warm flavor that's called for in both sweet and savory recipes around the world. We grind our ginger root weekly in small batches, for the ultimate fresh flavor and sweet, lemony aroma.
Cumin - We think cumin is terribly underrated in the US. Cumin seeds are an essential ingredient to Indian cooking, often toasted whole in oil before grinding, for a nutty toasted flavor, and added to blends like garam masala and tandoori masala or added whole to black bean or carrot soups.
Ground Cardamom - We love green cardamom's delicate, ginger-like, sweet flavor in sweets and coffees and source these organic green ground cardamom seeds from a Guatemalan cooperative.
Garlic - granulated garlic is more biting & stronger than its fresh counterpart (1/4 tsp. = 1 clove fresh garlic) and is perfect for slow-cooked dishes like stews, curries, blackened dishes, and rubs.
Cinnamon - Vietnamese cinnamon is globally renowned for its high oil content and strong, spicy flavor. Most known in the US as a perfect complement to baked goods like apple pie, cakes, muffins and cinnamon rolls, we also love this cinnamon paired with chiles. Or infuse in your morning coffee or added to roasted pumpkin and squash soup.
Cloves - High-quality cloves have high concentrations of oil. Typically used in baking spices in the US, ground cloves are popular in North Africa in rice and meat dishes and pair well in bbq sauces and roasted vegetables.
Lemon Juice Powder - Lemon juice powder gives a citrusy punch to cakes, cookies, glazes, drinks and other dishes.
Indian Spices
Nigella Seeds - Nigella seeds, also known as onion seeds, Charnushka, and black cumin, has a nutty, slightly sweet profile with pepper, thyme, onion and licorice flavors.
Fennel Seeds - These whole organic fennel seeds have anise, licorice and grassy flavor with spicy-sweet notes and come from India. Fennel is considered good for digestion and fennel tea is popular across the world.
Brown Mustard Seeds - The character of mustard seeds totally changes with heat exposure, becoming more deeply complex and pungent. We love adding these to curries, roasted meat and vegetables and stir fries, and they also feature in our panch phoran.
Black Mustard Seeds - Black mustard seeds are often tempered in hot oil in Indian cooking to bring out their flavor, before using in curries, lentil soups, roasted vegetables.
Asafoetida Powder - Asafoetida has a uniquely pungent raw smell and flavor that mellows into a deeply full-bodied flavor when cooked and is probably most comparable to washed cheese rinds. We love adding asafoetida to dahls, vegetarian curries, and loads of other South Indian dishes.
Yellow Mustard Seeds - We love a pinch of this mixed into green smoothies, scrambled eggs, curries, salad dressings and plenty more!
Fenugreek Seeds - Fenugreek seeds are prevalent in Middle Eastern cooking- particularly Turkish & Egyptian cuisine- and have a sweet, nutty flavor. Toast these whole fenugreek organic seeds in oil or dry and freshly ground for us in soup, curries, breads or tea.
Indian Spice Blends
Tandoori Masala - The core flavor base of Northern India's most popular tandoori-style dishes, this freshly ground tandoori spice masala consists of over a dozen spices adds rich, complex character. Use into marinate chicken, meat, seafood or vegetables in a traditional yogurt spice mixture, then char over high heat for a juicy interior and crispy, spicy exterior.
Panch Phoran - a crunchy, toasted, whole spice blend, perfect for tossing into or topping roasted potatoes, vegetables, or dals. Typically added to oil or ghee over medium heat, toast these until they pop and add to anything from sauteed vegetables to a pot of lentils.
Garam Masala - Among the most famous of Indian masalas, there are literally thousands of ways to prepare garam masala. Our organic garam masala is toasted and freshly ground, using a traditional Punjabi family recipe. A great addition to your recipe as it gives complex flavor and heat to chicken tikka masala (a British invention), traditional curries, braised vegetables or lentils.
Madras Curry Powder - Originating in Chennai, Madras curry powder is an earthier, milder version of other curry powders with a turmeric base, cassia, and fenugreek for an earthy sweetness, plus Kashmiri chiles for heat. Salt free, we love this salt free curry powder in slow-cooked lentils, dahls and vegetable curries or sprinkle onto curried potato salad or tuna salad for a kick.
Chai Masala - Dried rose petals, green cardamom, black peppercorns, star anise, fennel & cloves. Steep into your favorite black tea for frothy chai tea lattes or bake into cookies, cakes or muffins.
Chaat Masala - This is the go-to spice blend for most Indian snacks, street foods, roasted and fried food and salads. Punctuate any vegetarian dish (especially chickpeas—which are bursting with protein and fiber) or use as a topping on eggs, salads, curries, or fresh fruits.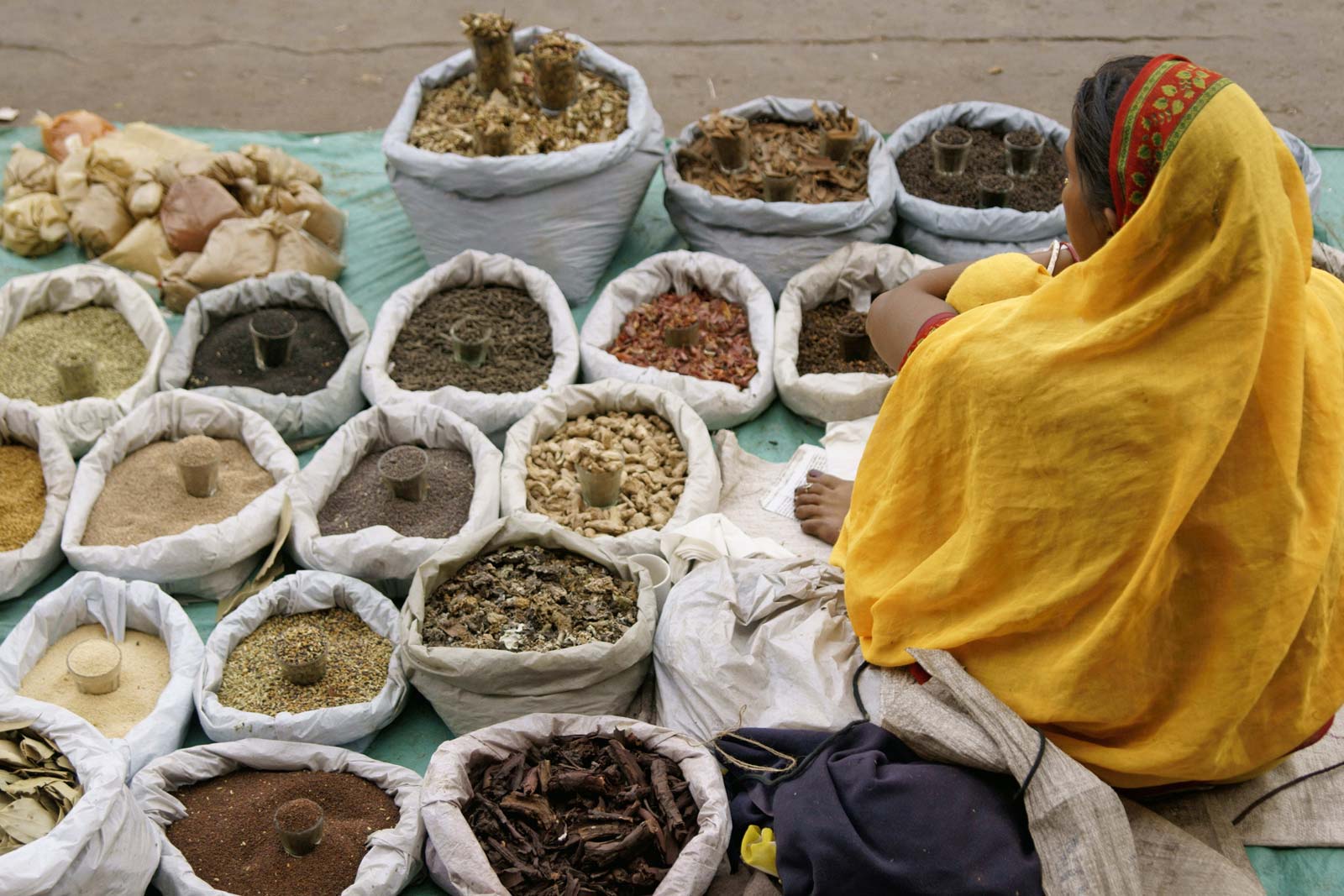 East Asian Spices
Kaffir Lime Leaves - The deep green, zesty leaf of the kaffir lime ground into a fine powder is one of our favorite secret weapons for elevating a dish from good to great.
Japanese Curry Powder - Japanese curry powder, or 'kare raisu', is known today as a thick stew of potatoes, carrots, onions, and either beef, chicken or seafood, served over rice and topped with pickles. Curry was introduced to Japan by the British in the mid 19th century, when India was under colonial British rule, and was originally considered to be Western cuisine. Japanese curry has since been adapted since its introduction to Japan, and is so widely consumed that it can be called a national dish. Enjoy this turmeric packed spice blend with beef, chicken, seafood or veggies or even as a stir-fry!
Shichimi Togarashi - Literally translating to "seven flavor chile pepper", this Japanese blend dates back to the 1600's and brings out the clean, simple flavors of Japanese cooking. Chiles & black peppercorns provide heat, while seaweed & orange peel add a complex flavor dimension. Pair with grilled meats, tempuras or sprinkle on top of rice or noodle dishes.
Furikake Seasoning - Literally translating to "seven flavor chile pepper", this Japanese blend dates back to the 1600s and brings out the clean, simple flavors of Japanese cooking. Chiles & black peppercorns provide heat, while seaweed & orange peel add a complex flavor dimension. Pair with grilled meats, tempuras or sprinkle on top of rice or noodle dishes.
Chinese Five Spice - Complements rich and fatty meats like duck, pork, and beef, this blend's claim to fame is its appearance in Chinese barbecued pork dishes. Try in veggie stir-fries, roasted carrots or muffins for a unique flavor angle.
Middle Eastern Spices
Grains of Paradise - We love using this stand-alone spice as a dry rub for steaks, barbeque chicken or kebabs or whisked into marinades for fish and vegetables.
Sumac Spice - We love including this freshly ground organic sumac spice in zingy lemon dressing, hummus, fattoush or on chicken, fish or any dish needing a citrus burst.
Saffron Threads - Famous for its vibrantly golden hue & most classically used in rice dishes, saffron threads are the most expensive spice in the world and also among the most flavorful and prized.
Middle Eastern Spice Blends
Za'atar - Freshly ground sumac berries, toasted sesame seeds and dried thyme and flaky sea salt give this Israeli classic a nutty, floral flavor to dips, pizza & rubs. Stir into olive oil and pile onto crusty bread or sprinkle on eggs, tuck into a Lebanese style pizza or use as dry rub on chicken or vegetables.
Baharat - Baharat is a spice staple in Turkish cooking- the name itself means "spices" in Arabic. Used in everything from seafood to soup, our freshly ground Baharat brings together coriander, cumin and black peppercorn with warm spices like cinnamon, allspice, and cloves- rounded out by sweet- not hot- paprika.
Ras El Hanout - Roughly translating to "top of the shop" in Arabic, the prized Moroccan Ras el Hanout is meant to comprise the very best a spice merchant has to offer. Individual spices are freshly ground and expertly blended and incorporated into traditional Morrocan tagines, couscous or grilled lamb or chicken dishes.
Hawaij - This Yemeni spice blend comes in two varieties, hawaij for coffee and hawaij for soup. Hawaij for coffee includes freshly ground ginger, green cardamom, fennel and a handful of other warming spices. This blend is perfect for adding to ground coffee and, by extension, pairs well with any number of coffee-based baked goods, such as coffee cake or coffee donuts.
Berbere - Arguably the most famous spice blend of Ethiopian cuisine, this Bird's Eye Berbere is smoky, spicy and complex. This spice mix is traditionally used in nearly all Ethiopian dishes but particularly shines in stews and on meats and poultry. Also try as a rub on roast chicken, roast vegetables or stir into oil and vinegar as a dip.
Advieh - This warming, Persian inspired advieh spice blend is crafted with black peppercorns, toasted cumin, ground lime, nutmeg, and rose petals. Resulting in subtly layered and complex flavors. Not too sweet and not too spicy, this classic blend is meant for meat or bean khoresht (Persian stews). Stir through rice or couscous or blend with oil or yogurt to create a rub for kabobs or grilled or roasted vegetables.
South American & Mexican Spices
Ceylon Cinnamon - Ceylon's oil content is lower than cassia's, at 1-2%, resulting in a lighter, less spicy and more vanilla, floral flavors. We love using Ceylon cinnamon on spiced fruit, hot cocoa, puddings, and whipped cream.
Jamaican Jerk Seasoning - Perfect for summer grilling season, jerk refers to prepping meat with a wet or dry rub. We've heavily packed this blend with Jamaican allspice berries, black peppercorns, and dried thyme, for a flavorful, spicy kick. Use to create a jerk paste for marinating chops, ribs or chicken.
Achiote Powder - We love this blend on everything from grilled chicken wings, arroz con pollo, tamales to certain stews and bean dishes. It can be used in a marinade or dry spice rub for grilled meat or mixed with oil to brush onto seafood.
North American & European Spices
Mahlab Spice - These pits add an ultra-luxurious almond, nutty, slightly vanilla flavor with a slightly bitter after taste. We love to add this Mahlab spice powder to baked goods like pastries, bread, rice pudding, honey, and cheese desserts and is frequently found throughout Greece, Turkey, and Egypt.
Mace Blades - The often forgotten "skin" of the nutmeg, whole mace blades are similar in taste to nutmeg, but slightly more subtle.
North American Spice Blends 
Taco Seasoning - This taco seasoning is not your old, flavorless grocery store stuff. Freshly ground to order and made with 100% pure spices- a blend of freshly ground & toasted ancho, guajillo, New Mexico and Arbol chiles. Also has the rich, woodsy spices of cumin, coriander, and paprika to make any taco party or bowl of chili a superstar. Perfect in posole, stews, soups, and any Mexican inspired bean dishes as well.
Quatre Epices - There's a saying, simplicity is the ultimate in sophistication. Never is that truer than in the case of this little gem. This blend dates back to the European courts of the middle ages and is a staple in French and Middle Eastern kitchens, often used in pâtés and terrines. This with braised short ribs, rubbed salmon, roasted carrots or baked cakes and muffins for complex flavor.
Pumpkin Pie Spices - Crafted with naturally organic, freshly ground whole cinnamon, allspice, black peppercorns and star anise, this pumpkin pie spice blend is unlike all those other traditional blends. Sprinkle this pumpkin spice over squash and roast, stir into yogurt or ice cream or brew into your morning coffee or add to cookies, bread, cakes, pies or other baked goods.
Poultry Seasoning - This herb-based poultry seasoning blend is a classic, but we rarely limit its use to the holidays only. Add as a rub in classic roast chicken or try in stuffing, veggie burgers, soups, vegetable soups, and tofu marinades.
Pickling Spices - This classic pickling spice merges classic dill seed and black peppercorn with red pepper flakes for heat plus mustard seeds and coriander for warmth. We especially love this blend with green vegetables like zucchini, beets, cucumbers, Brussel sprouts, and green beans. Tie in cheesecloth and add to your pickling jar, then remove when finished.
Italian Seasoning - This classic dried Italian herb blend of oregano, fennel, marjoram, rosemary, thyme, basil & sage is world-renowned for a reason- they transform everything from marinara sauce to herbed crackers, lasagna, pizza, spaghetti sauce or eggplant parmesan breading.
Herbes de Provence - This simple, yet elegant blend of dried herbs and lavender buds were bundled in the Provencal countryside and can turn basic meals into a flavor-packed, dinner party level dish. It can even take your popcorn to the next level when paired with asiago cheese! We love to pair this with anything from baked eggs and garlic bread to roasted fish or flourless cake.
Greek Seasoning - Packed with Greek oregano, lemon peel, thyme, freshly ground Tellicherry peppercorns and a very light touch of nutmeg and cinnamon. This light and tangy salt-free Greek seasoning work perfectly for a homemade gyro sauce, chicken dry rub, Greek shish kebabs, baked potato fries, lemon, and olive oil dressing or in olive oil with grilled veggies.
Creole Seasoning - We love this freshly ground, recipe-ready creole seasoning in gumbo, fish, tater tots, coleslaw, rice & beans, jambalaya, baked fries, crawfish or pretty much any cut of meat for a Louisiana flavor kick.
Cajun Seasoning - This freshly ground cajun seasoning is your foundation for any flavorful, Cajun-inspired recipe. We love the flavors of this southern Louisiana spice blend, especially in the summer. Use to create maque choux (Cajun succotash), Cajun pasta and sausage, Cajun shrimp & grits, Cajun dipping sauce or as a flavor burst on popcorn.
Memphis Dry BBQ Rub - We use this smoky rib rub to create an acidic "wet mop" for making tangy and tender charcoal-grilled ribs.
Apple Pie Spice - This freshly ground spice blend includes grains of paradise (a West African pepper), star anise and green cardamom for a unique twist on a classic spice blend. Try in breads, muffins, french toast or roasted yams or carrot and squash soup.
Chiles
Ancho Chile Powder - Ancho chiles are hugely popular throughout Mexico and have a dark red, almost black, color with mild heat and a fruity flavor. Use this freshly ground powder to form the base of moles, chili powder, stews, and sauces.
Chipotle Chile Powder - Chipotle chiles are made from dried, smoked jalapenos and are perfect to use in anything that could use a bit of smoke, from grilled chicken to salad dressings. We also love it in chili, popcorn, cheese dips, pork rubs, deviled eggs, and potato salad.
Ghost Pepper - Use this ghost pepper powder in very small amounts, and very carefully! We love it in mango salsa, ghost pepper jelly, and ghost pepper chicken wings.
Gochugaru - These freshly ground Gochugaru chili flakes are a third condiment on the table in Korean houses. Use these chili flakes to cook traditional Korean dishes like gochujang (Korean chili paste), kimchi, kimchi jjigae, and Kkotgetang. These red chiles are freshly ground into coarse flakes and have a sweet, intense flavor with medium heat.
Green Hatch Chiles - We use this powder to make a paste for sauces or a rub for roasted pork or chicken. We also love getting creative and making hatch chile cornbread, sweet potato hatch and a whole slew of other dishes.
Maras Pepper - These Turkish Marash pepper flakes sit right next to the salt and pepper in much of Turkey and the Mediterranean. And chefs in some of the world's most famous restaurants use these crushed chili pepper flakes for a fruity, earthy, medium heat. Add at the end to give a nice pop of heat to spicy tomato sauces, lamb and chicken rubs or as a bread dip mixed with olive oil.
Cayenne Pepper - This organic cayenne pepper ranks in at 90,000 Scoville heat units and will most certainly add a lot of heat in small doses, but can also subtly enhance other flavors. We love a pinch of this mixed into green smoothies, scrambled eggs, curries, salad dressings and plenty more.
Pasilla - Are ubiquitous in Mexican cuisine, having a mild heat and an earthy, raisin & licorice flavor. Pasilla chiles form the core base of traditional moles, along with Ancho and Mulato chiles, and are also delicious in chili, salsa, slow-cooked roasts, sauces, and glazes.
Urfa Biber - Often described as raisins meet coffee, this dried Turkish chile is smoky, almost sweet, and imparts a deep, red-maroon tinge to everything it touches. Urfa chiles pair well with braised meats, eggplants, and red peppers and give great depth to spreads with dairy or in hummus.
 
Peppercorns
Black Peppercorns - Tellicherry peppercorns are, by definition, larger in size and have a beautifully complex, citrusy aroma. When it comes to the generic pre-ground stuff, this is our favorite black peppercorn, by far, every time.
Cubeb - Cubeb has a lovely aromatic floral quality, no real pepper heat, and a camphor finish. With notes similar to allspice, this pepper works well in vegetable or meat dishes, in cocktails or even in baked goods and other desserts.
Sansho - Similar to Sichuan peppercorns and has the same numbing effect on the tongue, but with distinct citrus & floral notes. We love to pair sansho with grilled chicken & pork, BBQ fish or tofu, or in marinades.
Sichuan Peppercorns - The numbering, tingly heat plus the citrus flavor of Sichuan peppercorns tends to sneak up on your taste buds slowly- creating an effect known as ma la, or "numbing heat". Not really a peppercorn but a berry from the Chinese prickly ash tree, use in classic Sichuan dishes or add to burgers, lamb, noodle salads, tofu or stir-fries, just to name a few.
Pink Peppercorns - Originating in Latin America, these pink peppercorns have a peppery bite with a sweet, fruity flavor and had a heavy influence on Peruvian cuisine. We've included pink Himalayan sea salt to this blend, which pairs perfectly when sprinkled lightly on sweet dishes like ice cream, melons or chocolate or light, savory dishes such as scallops or salmon.
Kampot Peppercorns - Kampot Pepper takes its name from the province of Kampot, in south-west Cambodia, some 140 kilometers from the capital of Phnom Penh. The pepper growing area of Kampot covers six districts located in the province of Kampot and that of Kep (which was recently separated from Kampot). 
 
Dried Herbs
Rubbed Sage - Rubbed sage has a velvet-like texture, with slightly crumpled leaves that gives flavor that will last longer than the powdered variant. Store in a cool, dry place for no more than 6 months. We love using this in a typical poultry stuffing or pork sausage but sage also pairs well with balsamic vinegar, cheese, lemons, mushrooms, garlic, and onions.
Dried Oregano - Mediterranean oregano comes from the mint family. It has notes of citrus and mild licorice. We love to add dried oregano to traditional Greek dishes like grilled mahi-mahi, poultry, and chicken soup.
File Powder - Has a woodsy flavor, similar to root beer. Use in traditional sausage or seafood Creole gumbo and enjoy.
Dried Tarragon - We love using this dried tarragon in a classic bearnaise sauce or tarragon vinegar. Its earthy taste also adds complexity to classic tarragon chicken, salmon, egg salad, salad dressings, eggs or a creamy mushroom and artichoke soup.
Dried Marjoram - Dried marjoram is floral and woodsy (compared to its pungent and spicy oregano cousin) and has the most delicate flavor of our dried herbs- best added at the very end of cooking. Dried organic marjoram pairs beautifully with salad dressings, marinades, and sauces and grilled or braised meat and stews and complement onions, garlic and wine 
Superfood Powders
Collagen Peptides - Collagen is the most abundant protein in the body ensuring the health and vitality of your skin, hair, and tendons.
Marine Collagen - Marine Collagen is a type 1 collagen made of collagen peptides from fish. Marine Collagen is especially appealing from an environmental and sustainable perspective as it uses parts of the fish that are normally thrown away.
Mushroom Coffee - Mushroom coffee is a blend of adaptogenic mushroom powders from around the world. It is often used as a coffee alternative for its health benefits and adaptogenic properties. 
Maca Powder - Maca is a type of superfood that is native to Peru. This powder is derived from a root and adds a malty flavor on any dish or beverage. It complements chocolatey flavors but also works well with fruity flavors.
Superfood Powders - A blend of raw organic superfood powders including wheatgrass, maca, barley grass, moringa, spirulina, chorella to help cleanse and detox and support healthy immune function.