Enjoying a high-quality cocktail at home no longer requires a costly investment in bitters, liqueurs, and obscure base spirits. The range of bartender-quality, ready-to-drink cocktails has never been better. 
From the perfect Moscow Mule to a Bourbon Barrel Aged Old Fashioned, drinking well at at home has never been easier thanks to these talented makers.
Smokey Strawberry Rhubarb Gin Fizz
Strawberry Rhubarb Shrub // Hudson Standard // Hudson, NY
This retox comes, we admit, with a bit of foodie idealism. Be bad, but do good — that is to say, have a drink, but drink local. Hudson Standard's New-York-grown, seasonal botanicals turn cocktails into landscape paintings, with old-school mixers like this shrub, a Colonial American invention to preserve fruit and — bonus! — flavor rotgut liquor. We like it, of course, with better booze: try an ounce of good gin to two ounces of mix, add a splash of bubbles and top with lemon. 
Ingredients
1 oz gin
1/2 oz smoked honey
2 oz Hudson Standard Strawberry Rhubarb Shrub
½ oz lemon juice
Seltzer
Directions
In a shaker combine smoked honey, shrub, gin and lemon juice. Fill with ice and shake. Pour in glass, top with a little seltzer and serve.
Pro Tip: Muddle in fresh fruit or herbs like peaches and mint.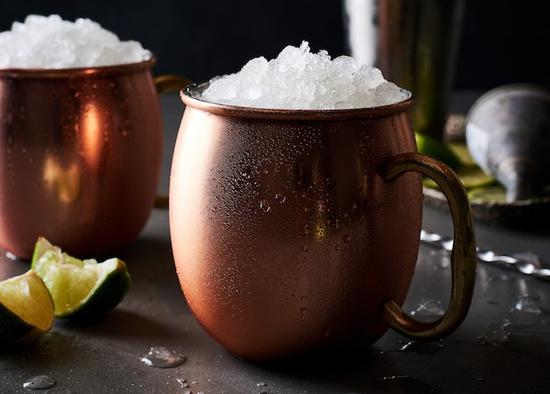 Ficks Moscow Mule
Moscow Mule Mixer // Ficks // San Francisco, CA
When we seek solace in the glass, nothing beats a handmade cocktail — and when the comforts of home trump the trimmings of fancy bars, we reach for premade mixers like this one. Ficks makes the mixing a snap (two part mix to one part liquor), but what about the morning after? No bottled hangover cures just yet, if you discount hairs of the dog, but Ficks thinks a dram of prevention beats a pint of treatment. They make their mixers with low sugar, a dash of electrolytes, extra B vitamins, and real flavors like fresh, NorCal ginger juice and organic lime. Add vodka, and don't worry about the Advil.
Ingredients
Ficks Premium Moscow Mule Mix
Vodka
Directions
2 parts Ficks Premium Moscow Mule Mix + 1 part vodka.

Serve over crushed ice in a copper mug.
Pro Tip: Pre-batch in an empty bottle for easy serving!
Sarsaparilla & Rye Cocktail Recipe
Sarsaparilla Syrup // Pink House Alchemy // Bentonville, AR
Wonder no more whence comes the "root" in your favorite soda. Root beer was, once, made with real-deal tubers; namely sarsaparilla, an earthy plant running wild through the Ozark hills. These days, though, the chemical concoctions likely come from a lab — and are best left for the kids. This syrup was born, instead, through old-school alchemy, in small, house-made batches (and yes, the house *is* pink). It's all grown up, and so are the drinks it makes, like a sweet-and-spicy rye cocktail with an ounce of syrup, an ounce of whiskey, and a splash of seltzer. Pre-batch it to fill your own adults-only soda fountain.
Ingredients
1 oz Pink House Alchemy Sarsaparilla Syrup
1 oz Rye or Bourbon
seltzer
Directions
Fill a tall glass with ice, combine Sarsaparilla Syrup and Rye, top with seltzer.
Pro Tip: Pre-Batch cocktail in a 750ml bottle with a swing top lid, using 4 oz Sarsaparilla Syrup, 4 oz Rye and 16 oz Seltzer. Pour over glasses filled with ice when needed.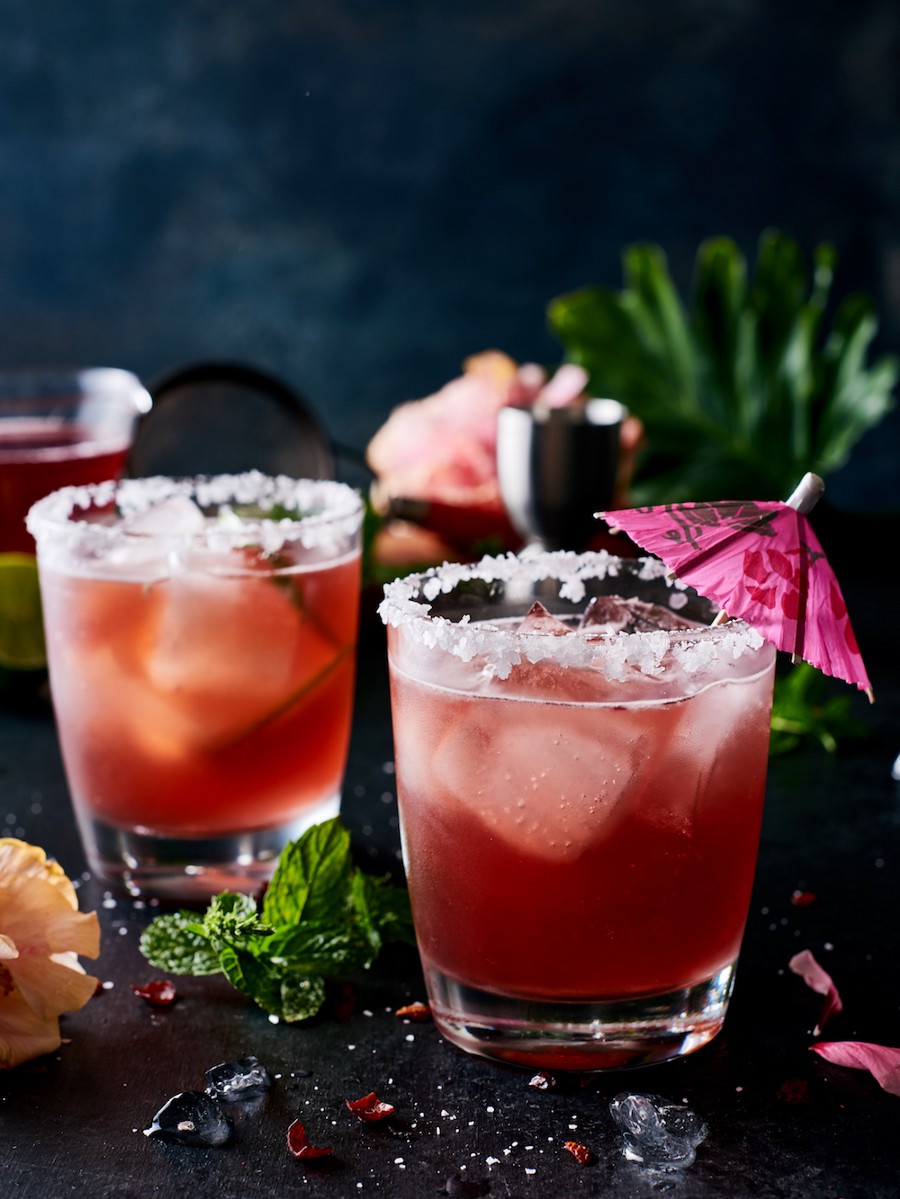 Hibiscus Margarita
Hibiscus Rose Cocktail Mixer // Yes Cocktail Co. // Paso Robles, CA

Nogs and toddies warm, sure, but like a bed-full of blankets, they satisfy by smothering. Time to lighten up. No beach vacation is complete without a cocktail, and so we offer this one, as easy to make as we could figure, because you have a busy day of lounging to get back to. Pour out a half an ounce of mixer, top with a few fingers of tequila, splash with lime, dash with triple sec, then serve on ice and watch the waves.
Ingredients
2 oz Tequila
1⁄2 oz Triple sec
1 oz Lime juice
1⁄2 oz Yes Cocktail Co. Hibiscus syrup
Directions
Add hibiscus syrup, lime juice, tequila and Triple Sec (optional) to a cocktail shaker with ice and shake vigorously to combine.

Pour over glasses with ice. Salt or sugar rim is optional. Garnish with lime wedge.
Michelada
Michelada Shrub // Pacific Pickle Works // Santa Barbara, CA
For all the flavor of a top-tier taco, Mexican beer is typically as bland as Baja bathwater, meant to rinse out the spice of a good meal, not compete with it. But when you'd rather drink with a kick of its own, the michelada's your man. A liquid lunch — a taco in boozy form — the michelada is the Superman to simple suds' Clark Kent, a beer in a lucha libre mask. They can be simple — a splash of hot sauce, a spritz of lime — or they can be complex as a jungle of pickle spears, peppers, even clam juice. Pacific Pickle Works makes one of the best, and they make it easy: just dump an ounce of shrub into a salt-rimmed pint glass, top with lager, and enjoy.
Ingredients
1 oz Pacific Pickle Works Michelada Shrub
12 oz Lager Beer 
Burger's Beef Snack Sticks
Spiceology Chile Lime Spice
Lime
Directions
Pour chile lime spice into a small, shallow dish in an even layer. Rim a pint glass with the cut side of a lime half, then dip glass into the dish to create a salt rim.

Fill with michelada shrub, fill glass with ice, and top with beer. Stir gently with Burger's Snack Stick and serve.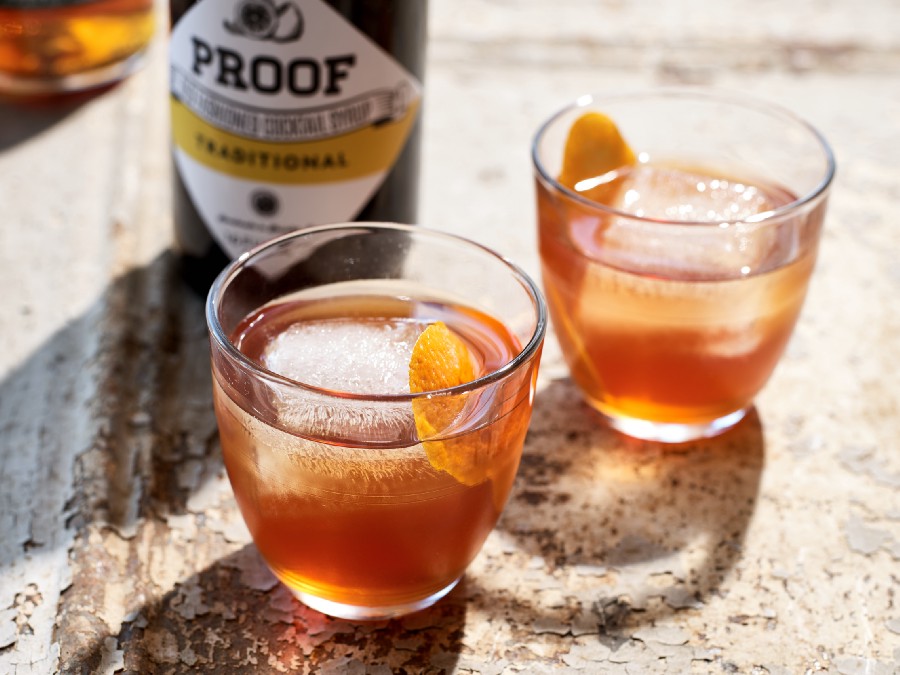 Old Fashioned Cocktail Mixer // Proof // Decatur, GA

The mixologists at the Decatur, Georgia cocktail lounge Pinewood whip up a mean Old Fashioned, if you're willing to wait. Drinks made the right way — the old way — take time. And when you're out on the town, the bar-side song and dance is part of the fun. But back at home, leave the mixing to the masters and get straight to drinking with this premade blend of bitters, sugar, and oleosaccharum — a 19th-century citrus-infused cocktail syrup. Using about a half ounce for each two-finger pour of bourbon, one bottle is good for 30 drinks or so.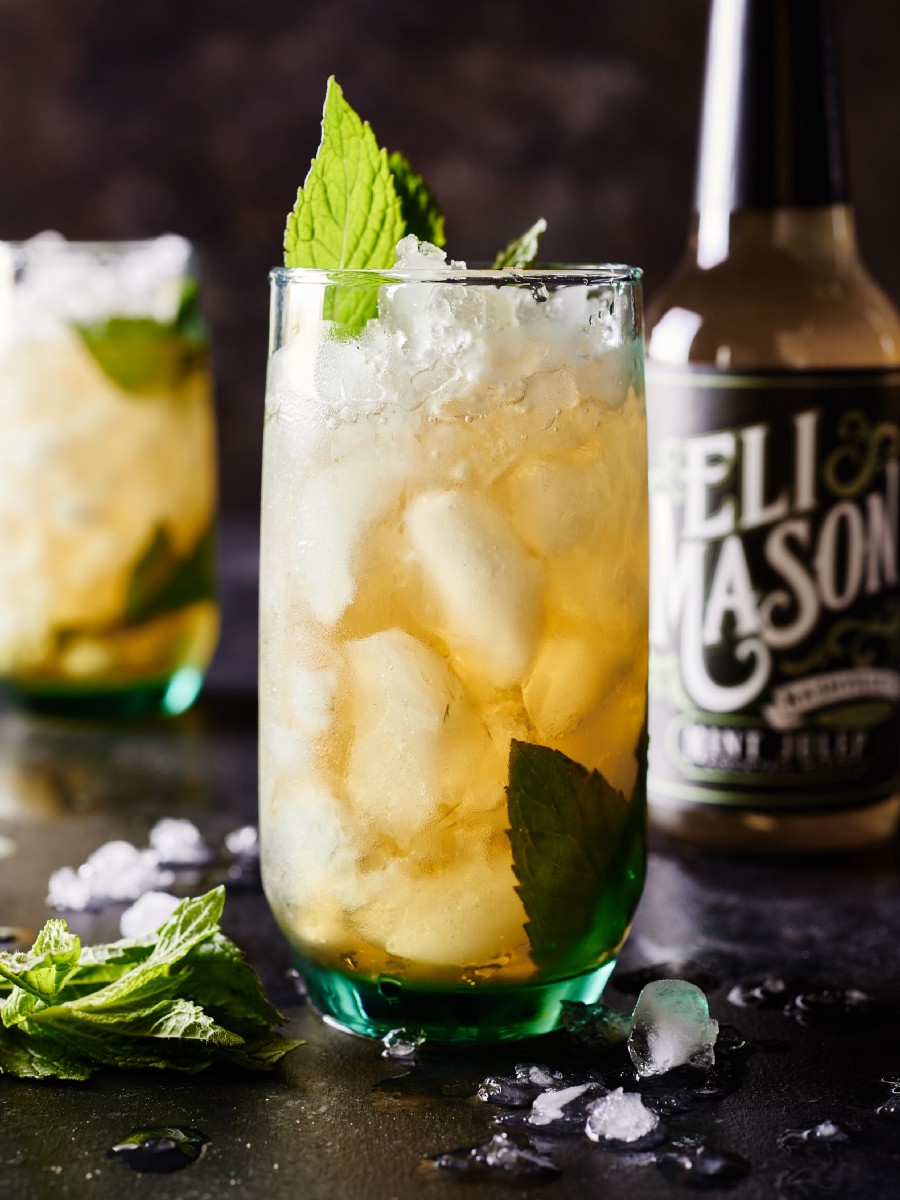 Mint Julep Recipe
Mint Julep Cocktail Mixer // Eli Mason // Nashville, TN
A creaking porch swing, the twang of an acoustic guitar, the only blinking lights are fireflies, the only tweets from nesting birds. Cell phone's long forgotten, the digital world's at bay — in your hand instead, a frosty glass of ice, mint, and bourbon. The easy life just got easier. No muddler? No mint? No problem. One part mixer; two parts bourbon. Most commercial mixers just over-sweeten your booze, but this Nashville-made syrup highlights, not hides. Made from pounds of fresh mint, cane sugar, and real gomme syrup — that's the old-school granddaddy of simple syrup, made with gum Arabic to make your drink as silky smooth as a southern breeze.
Ingredients
1 part Eli Mason Mint Julep Cocktail Mixer
2 parts bourbon
fresh mint
Directions
Mix Mint Julep Cocktail Mixer and Bourbon, pour over crushed ice and garnish with mint sprig.
Pro Tip: Try Eli Mason Cocktail Mixer in a Mojito!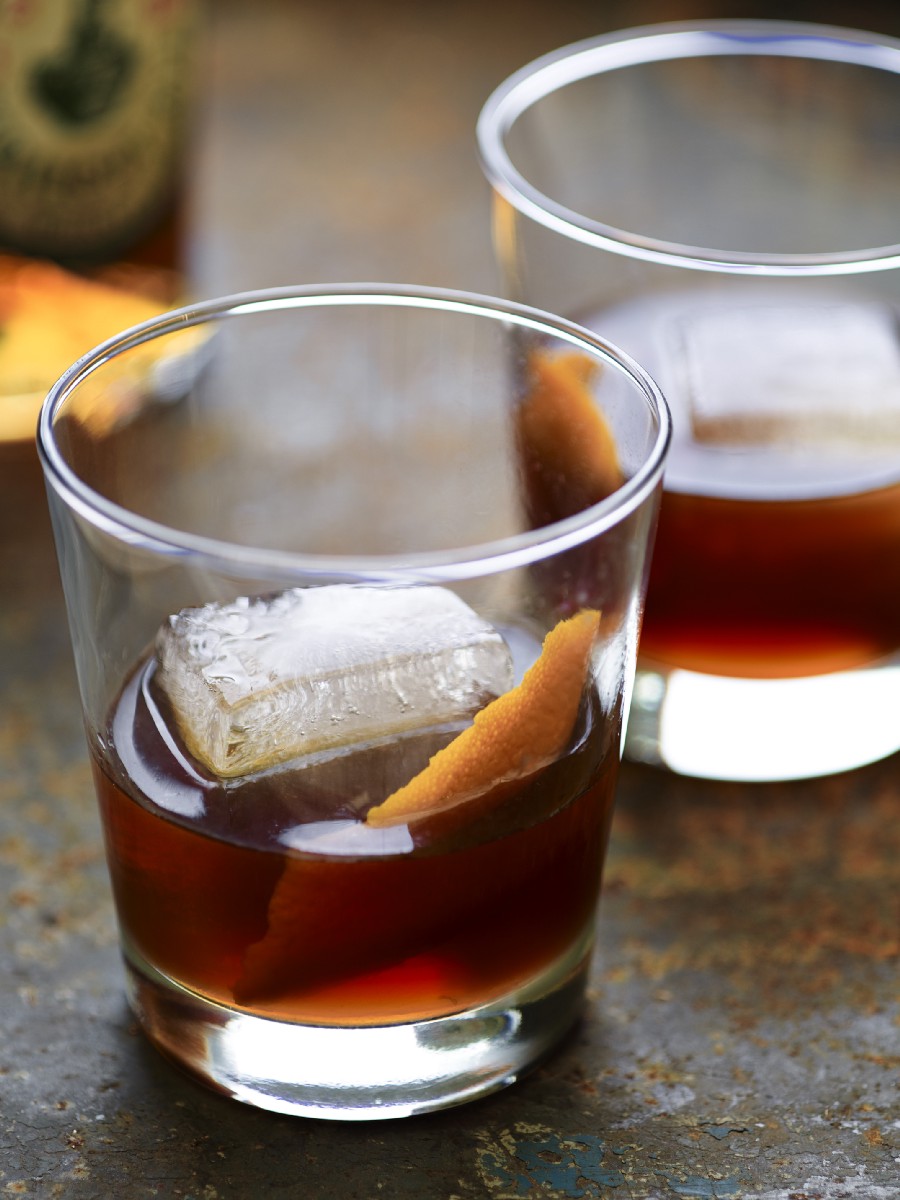 Barrel Aged Old Fashioned Recipe
Bourbon Barrel Old Fashioned // Bittermilk // Charleston, SC

Cocktail bars, those dim-lit basement dens, are no place to be when summer's sun beckons you out back. Instead of trundling your bar cart out to the patio, all you need is a bottle of Bittermilk. This mixer has everything but the booze: a classic blend of real-deal herbs and spices like gentian root and cinchona bark, sultry sweet with burnt sugar and a dash of orange, and aged in Willett bourbon barrels. Mix four parts bourbon to one part Bittermilk, fill a couple swing-top bottles, and chuck 'em in the igloo to sip while you grill.
Ingredients
4 Parts Bourbon or Rye
1 Part BITTERMILK №1
Directions
Stir with ice in a rocks glass. Garnish with orange twist.
Pro Tip: Pre-batch in a large bottle and serve with ice and orange twists for guests to help themselves.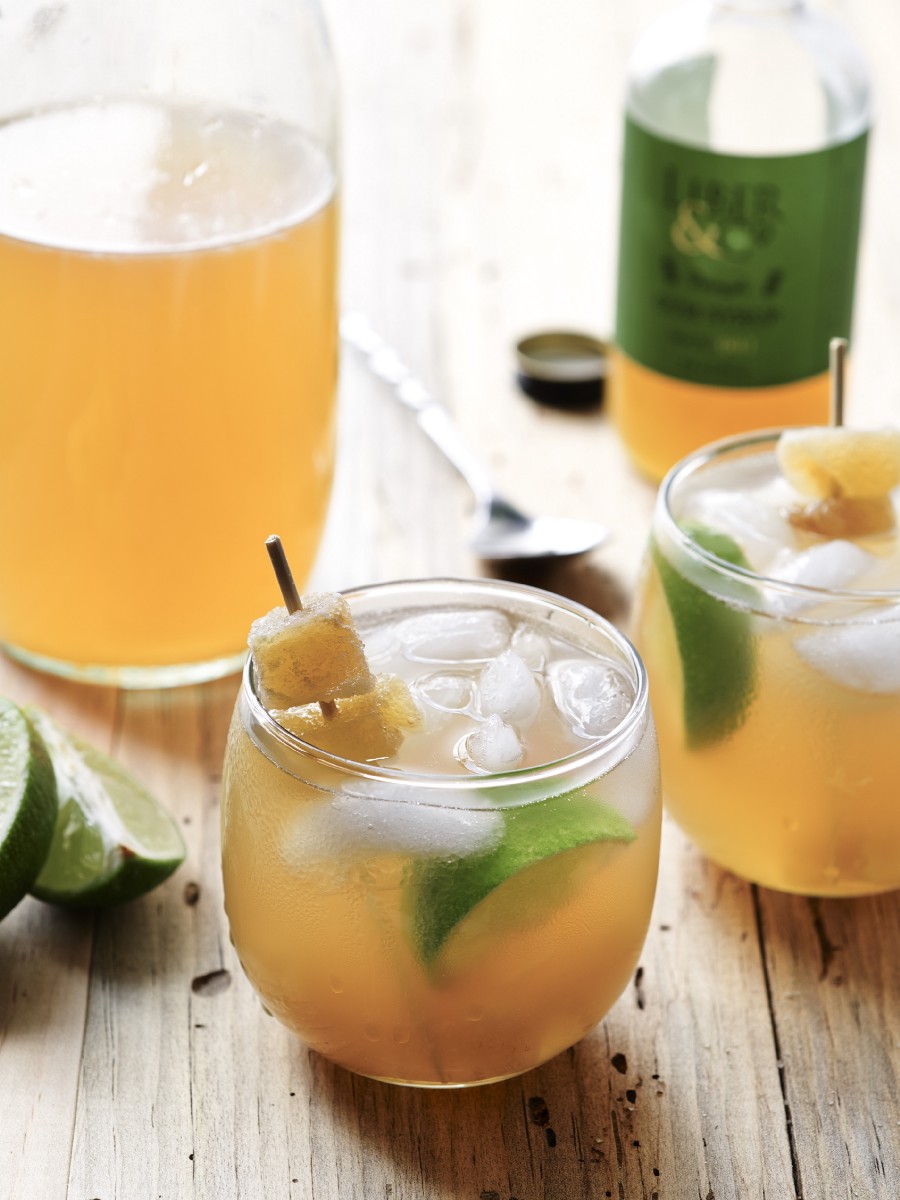 Barbados Rum Punch Recipe
Pineapple Gum Syrup // Liber & Co. // Austin, CA

Corner-store colas and over-sweetened juices won't cut it in quality cocktails. That's why most bars worth their rim salt make their own mixers, like this old-school gum syrup. Where canned juice is tongue-numbing sharp, this syrup is a smooth island breeze of tropical flavor, thanks to real-deal gum arabic, a natural tree resin and the secret to a true Barbados rum punch's creamy feel, no matter how many limes you add.
Ingredients
2 oz freshly squeezed lime juice
4 oz Liber & Co. Pineapple Gum Syrup
6 oz gold rum
8 oz water
6 dashes Angostura bitters
Reed's Candied Ginger
Limes
Directions
1. Combine all ingredients in a 1 qt. jug and fill with ice cubes to chill.
2. Divide among glasses filled with ice, garnish with lime and candied ginger
Thai Basil Margarita Recipe
Thai Basil Som // Pok Pok // Portland, OR
Andy Ricker has done for American Thai Food what mall food courts haven't. His Portland joint Pok Pok, which recently set up outposts in NYC is helping properly introducing America to Northern Thai Cuisine. People flock for his fiery, fragrant dishes armed with authentic flavors foreign to the ubiquitous take-out variety, washing it all down with refreshing gulps of Pok Pok Som which is served in all of Ricker's restaurants. Ricker suggests 4:1 soda to Som or nab our unauthentic Thai Basil Margarita recipe at Mantry.com.
Ingredients
2 oz. 100% agave tequila
1 oz. Pok Pok Thai Basil Som
½ oz Fresh lime Juice
Garnish: Gordy's Jalapeños, Thai Basil Thai Basil Sprig
Directions
Rim a highball glass with salt and fill with ice. Shake ingredients with ice and strain into a glass, garnish with Thai Basil Jalapeños and Thai Basil sprig.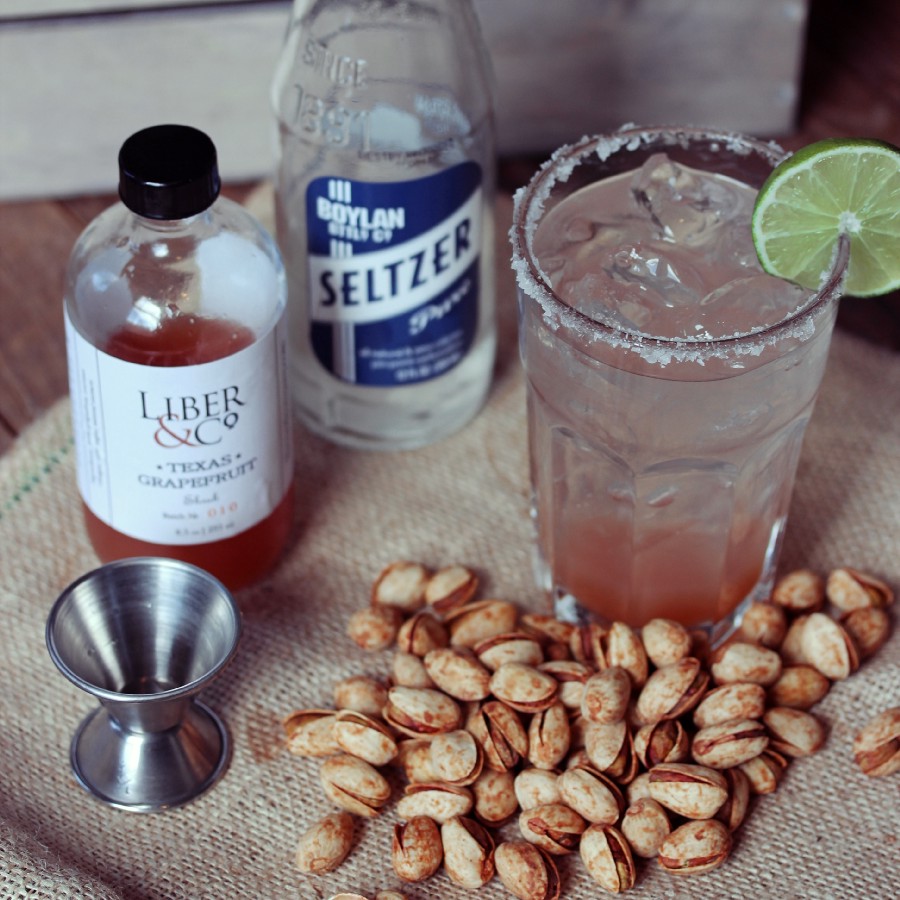 La Paloma Cocktail Recipe
Liber & Co. // Texas Grapefruit Shrub // Austin, TX
It can be tough to remember that tequila expands beyond the cuervo soaked college kids of Cancun and neon green blended slushies, but the "Paloma" is worth its salt. Traditionally, a combo of tequila, grapefruit soda and lime in a rimmed glass and more popular than margaritas in many areas of Mexico, we sub in Liber & Co's Grapefruit Shrub. A shrub is an infusion of fruit, vinegar and sugar that traces back to American colonial days and a couple Texan boys pay tribute to their hometown grown Rio Star grapefruit with this one. Mix with soda for a fresh-off-the-tree brightness that's fit to wash down any plate of chorizo and eggs (Paloma Recipe: Mantry.com/recipes)
Ingredients
¾ oz Liber & Co. Texas Grapefruit Shrub
½ oz fresh lime juice
1 teaspoon sugar
2 oz tequila blanco
Club Soda
Directions
1) Rim glass with salt
2) Combine grapefruit shrub, lime juice, sugar and tequila until sugar is dissolved
3) Add ice, top off with club soda
4) Garnish with lime