Although there are hundreds of different grape varietals, there are 10 wine types that are known as the most popular in the United States. Here is a brief description of each:
Popular White Wines
Chardonnay:
Chardonnay is a medium to full-bodied white wine that is grown globally but holds its own as the most popular wine varietal in America. The best types of Chardonnay are oaked-aged and have a buttery mouthfeel. Crisp fruit flavors like apple and pear are combined with citrus aromas and hints of spice and vanilla. Drink Chardonnay with creamy sauces or chicken dishes for a perfect pairing.
Riesling:
Riesling is the flagship wine of Germany, originating in the country's Rhine Valley. Riesling is at first sweet and acidic but balances out with honey flavors and a significant minerality. Riesling is great for pairing with spicy Asian cuisines or rich foods like pork.
Pinot Grigio:
Pinot Grigio is a quintessential Italian white wine. This wine type can be described as light, dry and refreshing with crisp fruit flavors like apple or pear. A different style of cultivation produces more medium-bodied wines that have floral aromas and a hint of minerality. Although both styles can be considered the same wine, the latter style typically bears the name Pinot Gris rather than Pinot Grigio. Both Pinot Gris and Pinot Grigio are best paired with seafood, more specifically shellfish.
Sauvignon Blanc:
Sauvignon Blanc is a light, dry and crisp white wine that has citrus notes and grassy aromas. When aged in oak, the wine has spice and vanilla flavors, as well. Although it tastes great with grilled chicken or vegetables, Sauvignon Blanc is a perfect pair for scallops or other shellfish.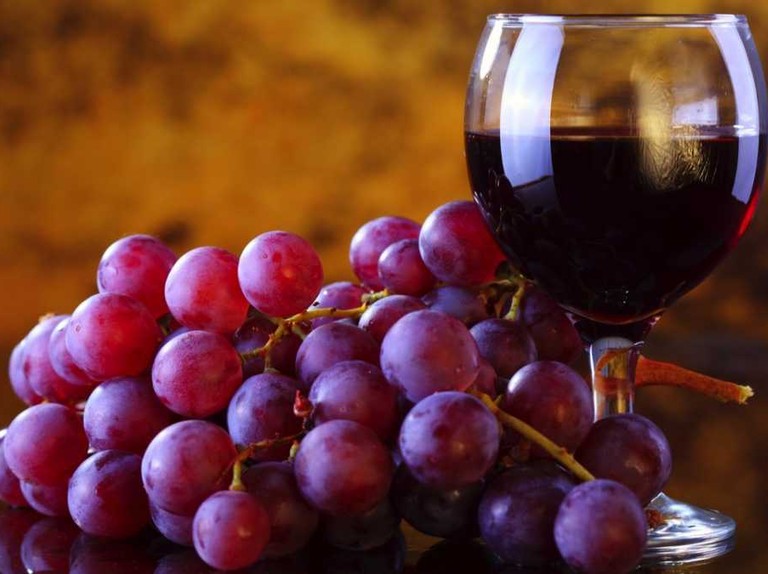 Popular Red Wines
Cabernet Sauvignon:
Cabernet Sauvignon is the gem of Napa Valley. A full-bodied red wine, "Cabs" can typically be described as rich and robust. Most commonly aged in French oak, dark fruit flavors are combined with spices and other earthy aromas. The perfect pair for a glass of Cabernet Sauvignon is a juicy steak or other form of red meat.
Pinot Noir:
Pinot Noir is a light to medium-bodied red wine whose grapes flourish in colder climates. Described as smooth and fruit-forward, Pinot Noir has red-fruit aromas, most commonly cherry, and just a hint of spices and earthiness. A great Pinot Noir typically has a long, lingering finish. Pinot Noir pairs best with wild game or veal.
Syrah:
Syrah is a bold and rich red wine. Notes of dark fruits, pepper and spice are staples of the varietal. Australia's style of Syrah is known as Shiraz and is much more sweet and jam-like than the "Old World" style of Syrah. Both versions are rich in fruit flavors, yet notably complex. Syrah is perfect for hearty and rich meat dishes, most specifically venison.
Zinfandel:
Zinfandel is one of the only grapes thought to be indigenous to America. Grown exclusively in California, this versatile wine has a range of different styles. Most commonly, Zinfandel is aged in American oak, giving the jam-like ripe fruit flavors an earthy spiciness. Zinfandel is also known as one of the more alcoholic wine types, packing a rich punch. Although it is known to go great with a wide variety of foods, this varietal's perfect pairing is smoked or grilled meats.
Malbec:
Malbec, although originally produced in France, has been popularized by the Mendoza region in Argentina. This wine is a full-bodied, deep red wine that has dark berry fruit flavors and moderate tannins. Malbec is a great pairing for steak or other grilled meats.
Merlot:
Merlot is a popular wine of America's western growing regions, while remaining one of the more prominent grapes in Bordeaux. Merlot is much like Cabernet Sauvignon only more fruit-forward. Red fruit flavors and aromas are made complex by smooth tannins, as well as spice and vanilla notes, which are evidence of oak-aging. Merlot tastes fabulous when paired with a hamburger or, more exotically, with lamb or duck.
Most wine-serving establishments in America will have these wine types, but there are many great varietals beyond the ten listed above. Region, cultivation style and climate all make each varietal different, which is why wine is such a fascinating beverage. When looking to branch out and try new types, we recommend you get an idea of what you like in a wine and ask for recommendations based on those certain traits.