The first thing that comes to mind when you think of "American cuisine" are classics like burgers, fried chicken, hot dogs and pancakes. Like many things American, the cuisine also has influences from elsewhere – German, British, Italian, Dutch, French, and Caribbean are only some of the cultures that have contributed to the food that is now considered typically American. 
Comfort food is always evolving, yet defies all trends. Whether we crave loco moco, spaghetti and meatballs, or a big bowl of matzo ball soup, we want our homespun favorites just the way mom, dad, or grandma used to make them. Read on for the rib-sticking, heart-warming, best comfort foods across America—plus, the places to dig into them. 
1 -

Chicken and Waffles

Where to get it: According to John T. Edge, the director of the Southern Foodways Alliance and author of Fried Chicken: An American Story, chicken and waffles is a Southern dish, "but a Southern dish once or twice removed from the South." African Americans brought this comforting plate from the South to urban metropolitan areas nationwide and Roscoe's Chicken and Waffles is the place to get it. The L.A. institution serves chicken and waffles at seven locations in Southern California.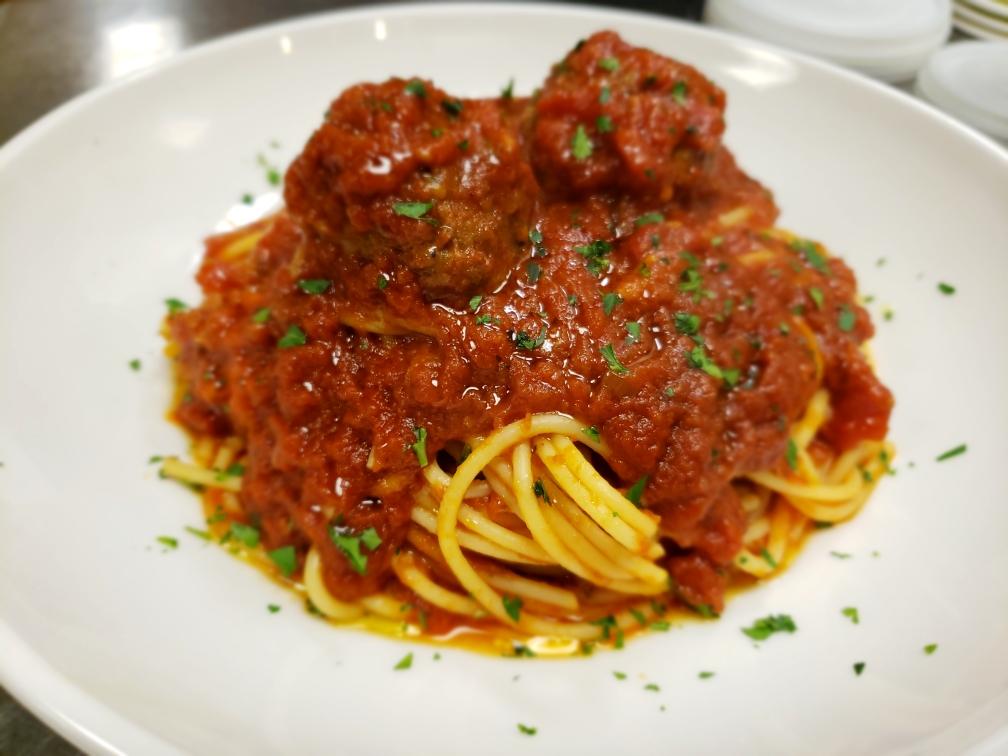 2- 

Spaghetti and Meatballs

Where to get it: Certain Italian-American purists refuse to eat spaghetti and meatballs anywhere but their grandmothers' kitchens, for fear of alienating pasta-making family members. For the rest of us, there's DiPasquale's, in Baltimore, Maryland.  For nearly 100 years, this Italian-American marketplace has been dishing out hearty bowls of spaghetti and enormous, buttery meatballs to Baltimore loyalists. Best of all? Lunch portions cost less than $13, making this a steal every Nonna can appreciate.

 
3 -

Chicken Fried Steak

Where to get it: The official state meal of Oklahoma, chicken fried steak, and travelers will find it served beneath gravy and atop mashed potatoes at diners across the state. If a downhome, no-frills version is what you're after, point wagons toward Chuck House Restaurant, the self-proclaimed best chicken fry in the universe. The steak here is battered and fried, served with creamy gravy and your choice of potato. It's an unapologetically rich, utterly satisfying dish.

 
4- 

Mac and Cheese

Where to get it: The star-spangled cousin to Bechamel is a versatile favorite from coast to coast. It can be a casual weeknight supper, everyone's go-to Thanksgiving side, or a BBQ pit stop. Cochon Butcher, James Beard Award-winning chefs Donald Link and Stephen Stryjewski's convivial New Orleans haunt, serves a perfectly portioned crock of mac and cheese, just browned enough on the top to be simultaneously crunchy, creamy, and chewy, all in one bite.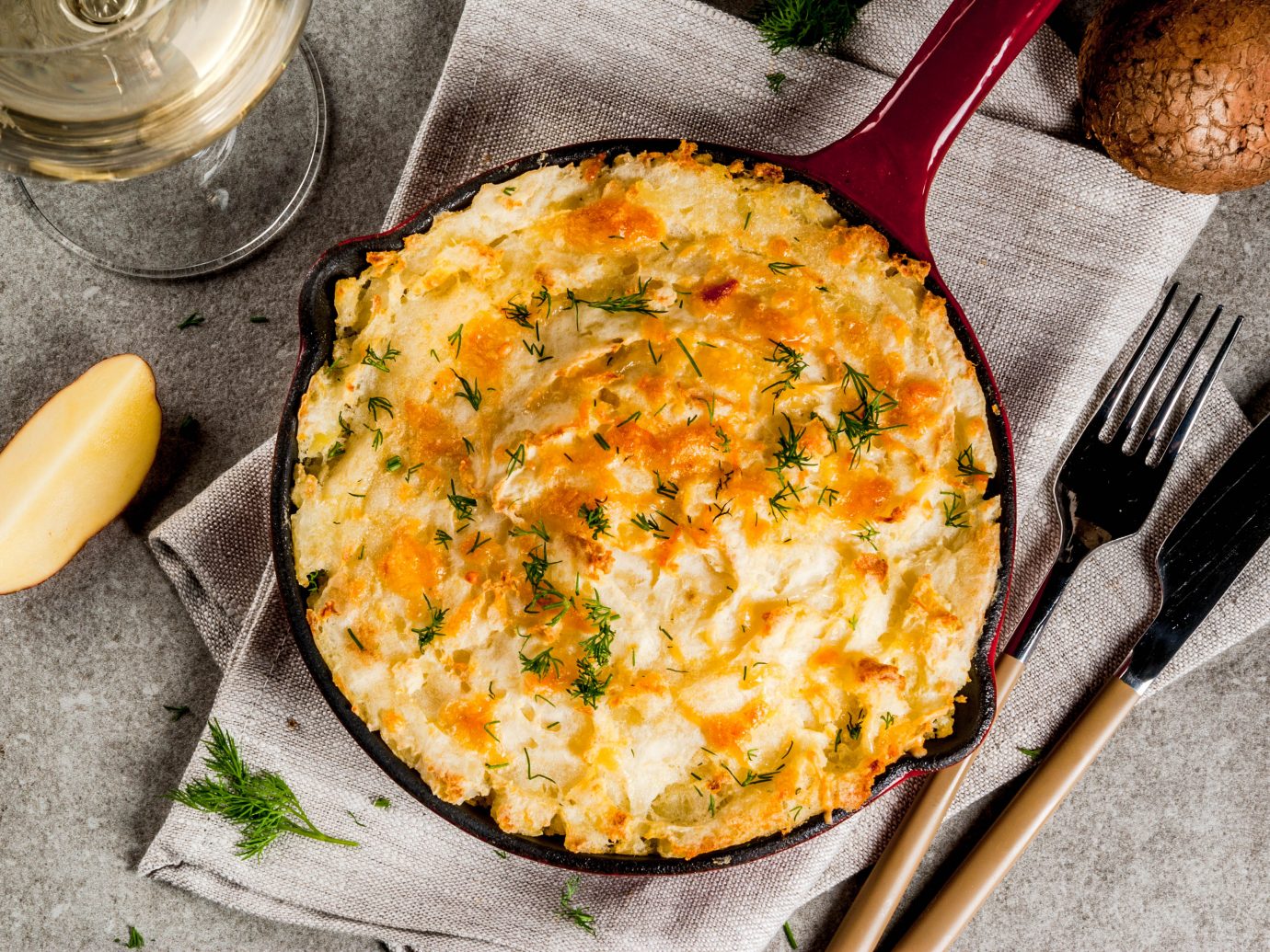 5- 

Hotdish

Where to get it:  Similar to a casserole hotdish typically includes some sort of starch, vegetable, and protein in a creamy sauce, which itself might be canned creamed soup. Minneapolis' Mason Jar prides itself on its tater tot hot dish, a delicious combo of ground beef, corn, and homemade cream of mushroom soup beneath a bed of tater tots and melted cheddar.

 
6- 

Chicago Deep Dish Pizza

Where to get it: Ask 10 Chicagoans where to get the best deep dish pizza in their city, and expect 10 different answers. One noteworthy version is at Gino's East, a 1966 institution that has since spawned nearly 20 locations worldwide. At the Magnificent Mile original, you will run into tourists, but you'll see locals too. Everyone is there for good reason: Gino's layers Italian pork sausage between its crust and sauce, giving every slice beautifully salty, fennel-spiked notes.

 
7- 

Grilled Cheese and Tomato Soup

Where to get it: Sweet, acidic tomatoes cut through gooey, cheesy decadence in this classic flavor combination. For an utterly traditional take, tuck into the special at Ted's Bulletin, a Washington DC standby for family-friendly favorites like chunky tomato soup with buttery grilled cheese. Those hoping to gild the lily might opt for the deluxe sandwich, which comes with tomato, country ham, or applewood bacon; or go for broke with the super deluxe, made with braised short rib and three-cheese mac.

 
8- 

Matzo Ball Soup

Where to get it: Light and fluffy? Dense and hearty? There are countless ways to prepare matzo balls, but a quintessentially comforting version of the soup acolytes call "Jewish penicillin" is always on order at New York City's Second Avenue Deli. The Manhattan landmark was born from a 1954 lunch counter, and relocated to new digs in 2007. The beloved matzo ball soup remains golden, heart-warming, and utterly satisfying.

 
9- 

Coney Dogs

Where to get it: Detroiters credit Greek-American immigrants with their hometown specialty, a beef hot dog served on a bun topped with chili sauce, yellow mustard, and diced onion. "These are not aristocratic sausages like you find on the other side of Lake Michigan, in Chicago and Milwaukee," Jane and Michael Stern write in 500 Things to Eat Before It's Too Late. Get your fix at Lafayette Coney Island, one of two longtime local favorites (the other is Duly's, and it's located right next door).

 

 
10- 

Chips and Queso

Where to get it: Chile con queso, called "the dip of the Houston gods" and "one of Houston's most essential foodstuffs" by the Houston Chronicle, is everything that is satisfying about Tex-Mex cuisine. It's hearty, cheesy, and unapologetically crowd-pleasing. For more than 30 years, Molina's in Houston has been serving a meaty version, called Jose's Dip, that blends gooey melted cheese with onions, ground beef, and light "taco spice."

 

 
11- 

Toasted Ravioli

Where to get it: Like Post-It notes and Penicillin, St. Louis' signature comfort food is the result of a happy accident. The most popular origin story involves a harried line cook at Charlie Gitto's, an Italian-American restaurant, who mistakenly dropped hand-made pasta into oil instead of water. With that, a lightly fried legend was born. Toasted ravioli are typically enjoyed as an appetizer in restaurants across St. Louis. Try an elegant, critically acclaimed version beneath Bolognese sauce at Lindenwood Park's Trattoria Marcella.

 
12- 

Sancocho

Where to get it: A hearty delicacy that spans several Caribbean and Latin American culinary traditions, sancocho is beef stew made with yuca and other root vegetables. Sometimes corn is added, often on the cob, and all gets simmered until the broth is brown and vegetables beautifully tender. Molini's, in San Juan, Puerto Rico, is a low-key spot for traditional Puerto Rican fare on Calle Loiza that serves a classic rendition with rich, savory broth. (Pro tip: Molini's menu changes daily, so call ahead.)

 
13- 

Chili

Where to get it: Regional takes on chili include everything from simmering pots of beans and beef, to healthful seeming turkey bowls, to spicy Texas varieties. Cincinnati's signature chili, however, is an unparalleled wonder: plates of spaghetti are topped with mildly spiced beef chili, a handful of shredded yellow cheese, kidney beans, and chopped onions. Camp Washington is the most underrated local spot for this down-home dish. Open since 1940, Camp Washington chili has been honored with a James Beard Classics Award. It's that good.

 
14- 

Fish Tacos

Where to get it: Fish tacos are as integral to the Southern California landscape as beautiful beaches and traffic on the 405. They  can be made with battered white fish or seared mahi mahi, but typically involve little other adornment than a squeeze of lime, sprinkle of crunchy cabbage, and maybe (maybe) a dollop of mayo-based "white sauce." They are everywhere in San Diego; El Zarape, a miniscule Mexican restaurant in the University Heights neighborhood, has a crowd-pleasing version with lightly battered Pollack, a tangy schmear, and chopped fresh veggies.

 

 
15- 

Brunswick Stew

Where to get it: If you grew up in Georgia, Virginia, or North Carolina, you were likely raised on Brunswick Stew. It's filling, warming, and economical, three key components to comfort food. Local variations abound, but usually follow the general rubric of tomato-infused broth, pulled or stewed protein (such as chicken), and vegetables like green beans, corn, and okra. Cooks might add butter or lima beans, and sliced kielbasa or pulled pork for smoky flavor. A classic version rich with barbecue trimmings is available seasonally at Buz and Ned's Smokehouse in Richmond, VA. (Ask the cashier or phone ahead to be sure it's on the menu.)

 
16- 

Garbage Plate

Where to get it: Anyone who has wanted to answer the question "Want a hamburger or hot dog?" with "Yes!" will understand the appeal of the garbage plate. It typically involves a choice of protein (cheeseburger, hamburger, Italian sausages, steak, chicken, or hot links) and a starch (home fries, pasta, French fries) beneath meat gravy.  According to local lore, it was created when drunk college kids asked a local restaurateur serve them a plate "with all the garbage on it." Dogtown Hots, a tiny, divey counter in Monroe Village, in Rochester, NY, devotes an entire section of its menu to custom garbage plates. Called "Junkyard Dog Plates," they are offer everything from sweet potato fries to macaroni salad to Polish sausages to old fashioned cheeseburgers.

 
17- 

Breakfast Burrito

Where to get it: L.A.'s sprawl and Austin's lots are both well-suited to food trucks, but few garner as much early-morning enthusiasm as The Rooster, chef Rouha Sadighi's mobile operation for breakfast and brunch at various spots in Venice, Culver City, and, recently, Austin, TX. Since its 2016 debut in Venice, the most popular item on the menu has been its breakfast burrito, Rico Suave. Loaded with eggs, avocado, tater tots, bacon, molcajete salsa, and cilantro crema, it's served in a flour tortilla and craveable around the clock.

 
18- 

Pepperoni Roll

Where to get it: This savory, portable snack features spicy pepperoni inside rolled and yeasted bread. It was created by an Italian-American immigrant in West Virginia 1929, and became a popular lunch among coal miners in the early half of the 20th century. Pepperoni rolls are reportedly the staff's pick at Tomaro's Bakery, a 1914 bakery specializing in Italian-accented breads and buns. Its pepperoni rolls are thick and sturdy, stuffed with hefty batons of spicy sausage.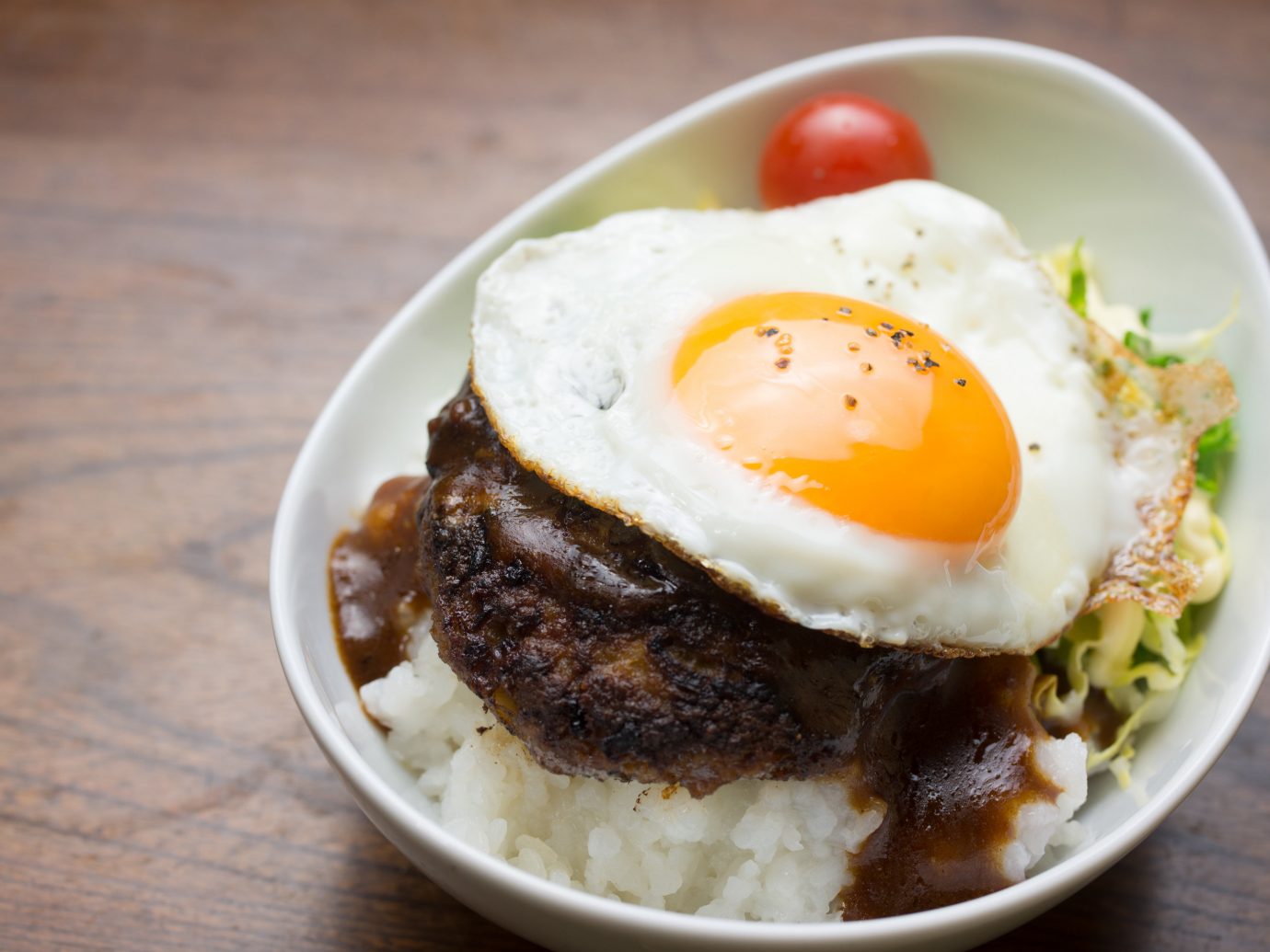 19- 

Loco Moco

Where to get it: For more than 50 years, the iconic Rainbow Drive in Oahu, HI, has been dishing out favorites like Spam and eggs and loco moco, the islands' signature egg-topped burger, rice, and gravy plate. Locals voted it their top spot for loco moco for two consecutive years, and it's easy to see why: the hamburger patties are large, the rice is perfectly cooked, the gravy is savory and egg yolks runny enough to brighten any rainy day.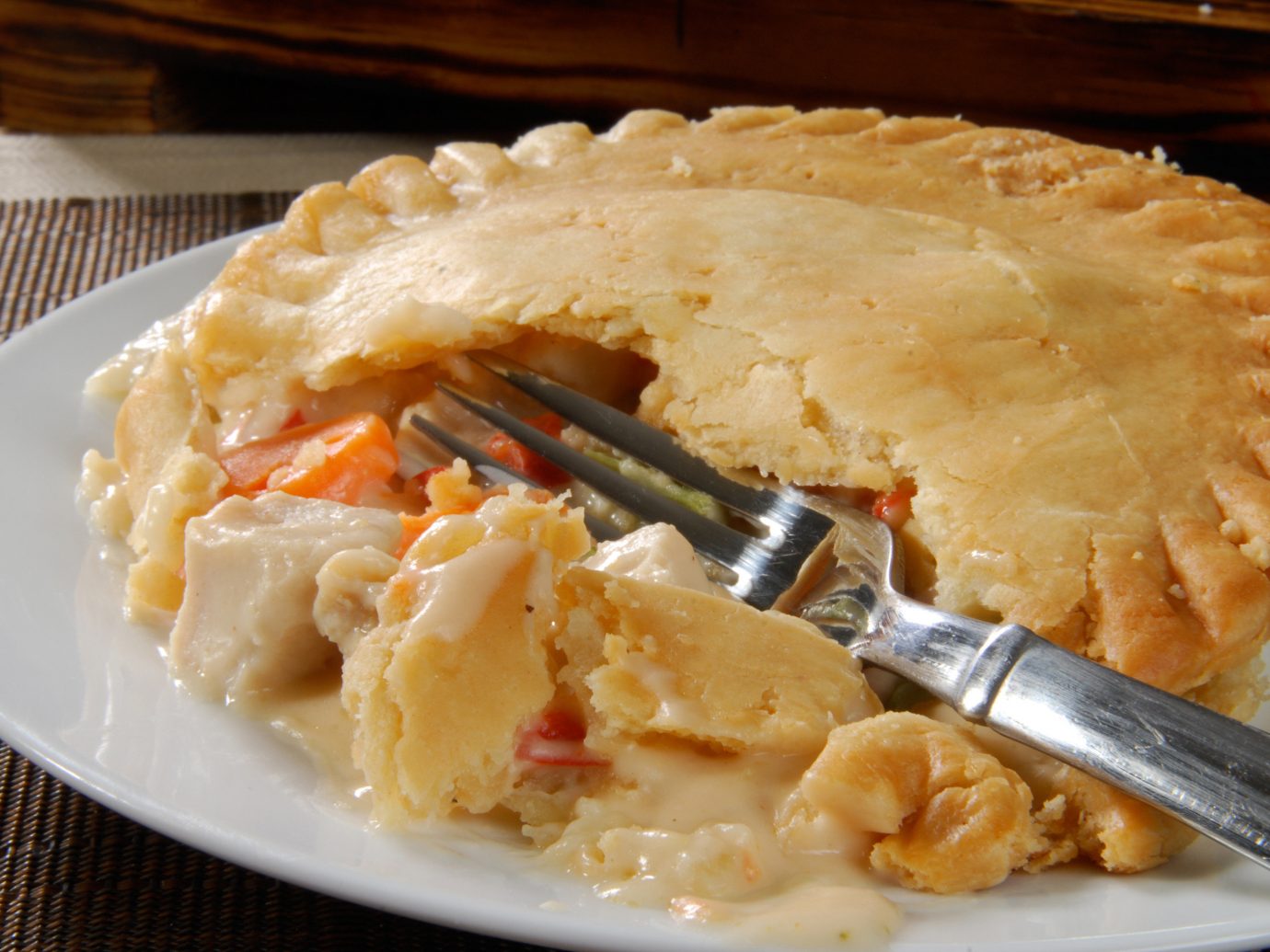 20- 

Chicken Pot Pie

Where to get in: Great Britain and Australia have their savory pies, and Latin America and Italy have empanadas and calzones, respectively. We have chicken pot pie, an infinitely customizable comfort food staple that bakes stewed meat and vegetables beneath drop biscuits, phyllo dough, or buttery pie crust. Pine State Biscuits, in Portland, OR, a cult label born from a pop-up at the Portland Farmers Market, now has four locations across the city. All offer a noteworthy chicken pot pie made with fried fowl, mixed vegetables, and mushroom gravy beneath one of its signature flaky, buttery biscuits.