The question of who exactly are the Arabs and what exactly is their cuisine is a question simpler to ask than answer. The Arab identity is a complex notion. Politically speaking, the "Arab world" connotes the 22 Arabic speaking nations of the Arab League. But if you go beyond this relatively new 19th century phenomenon of Arab nationalism, you will realise how multilayered the notion is. People from regions spread across Africa, the Mediterranean and West Asia may be bound by a common language and religion, but there are also indigenous ethnicities at play. And when it comes to food, this question of what exactly is Arab food becomes even more complicated.
Despite similarities, Arabic cuisine is hardly a single entity. Instead, it is made up of many different regional foods and what you eat on the Atlantic or Arabian coast may be pretty distinct from what you would eat in the desert.
What you cannot discount, however, on all these various foods is the impact of the Ottoman Empire than ruled such a major chunk of the world at its zenith, including most of the countries now recognized as part of the Arab world. The Turkish influence is, of course, equally evident in cuisines such as Greek and Indian, and throughout our histories there has been a steady exchange of ingredients, cooking methods and ideas, which have shaped all these cuisines.
Top 10 Most Famous Arab Food
1. Meat Madhfoon
Madhfoon is a trendy arabic food dish in the Arabian Peninsula and many regions. It is a traditional dish that originated from Al Hudaydah, Yemen. Meat madhfoon cooked with a combination of rice and meat. The traditional way of Meat cooking Madhfoon is entirely different; the marinated meat is cooked at a hole beneath the ground where it is put on the sand and encompassed by charcoal. The smoke and warmth gradually cook the meat, keeping it delicious, delicate, and soft while providing it with a marginally smoky flavor and fragrance make this arab food, a must eat.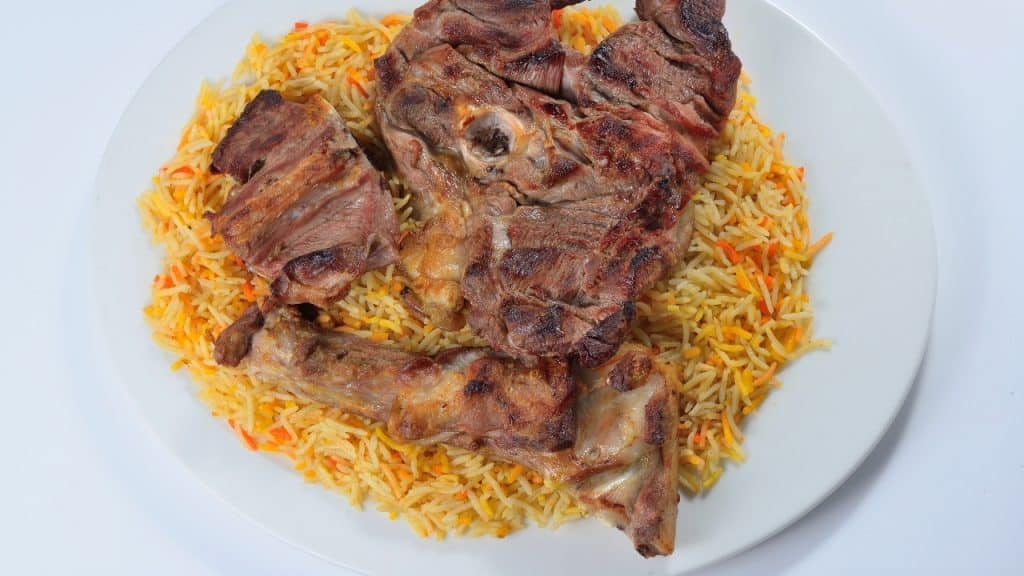 Madhfoon is prepared with lamb, spiced with cumin, pepper, coriander, cloves, and turmeric. The cooked meat is served with spice added rice. In Yemen and some southern Saudi Arabia, Madhfoon is the main dish during special events like weddings, Eid, and feast.
2. Chicken Machboos
Chicken Machboos is the national arabic food dish of Bahrain and is also popular in the neighboring Gulf States of the Arabian Peninsula. Machboos, also known as machbous, give a meaning "pressed "in Arabic. Chicken, Rice, and Whole spices are the three common ingredients for Chicken Machboos.
Machboos is the traditional Arabic rice recipe cooked in a chicken broth enhanced with a mix of flavors. It is similar to Saudi Arabian "Kabsa," but the cooking style can vary from one region to another. This arab food has the strong taste of lemon and pepper differentiate the Bahraini Machboos. One standard procedure for this dish is spices and cooking the chicken in the broth/sauce for Rice to get considerably more flavor.
3. Chicken Mandi
Arabic Chicken Mandi is a traditional arabic food originated from the Hadhramaut region, Yemen. The word 'mandi' derives from the Arabic word nada, signifying 'dew,' referring to the meat's dewy surface. With a mixture of spices, arabic food name "Mandi" is a delicious combination of Rice and chicken. The Mandi Masala is a spice mix made by dry roasting coriander, cloves, cumin, and cinnamon, which gives the principle flavor to this dish.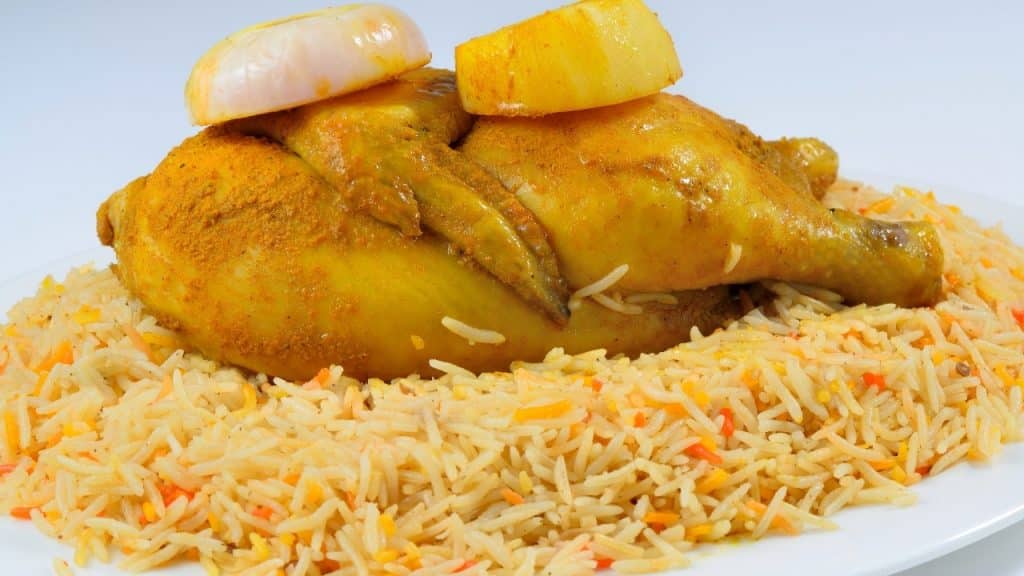 Chichen Mandi is traditionally cooked in an underground oven called Tandoor (in Arabic: Taboon). The meat is cooked using coal. Hence the meat gets the smoky aroma and flavor of the coal. Rice and meat are moderate cooked utilizing the warmth in the broiler. Rice's vapor helps cook the meat, and fat that trickles from the meat injects the Rice with more flavors. Chicken Mandi is definetely a must eat arab foods .
4. Luqaimat
Luqaimat is a famous Arabic food name famous for sweet dumpling, traditionally made during Ramadan and enjoyed after iftar. The Arabic food Luqaimat is a deep-fried ball with date syrup or honey, sprinkled with seeds. Arabian Gulf countries use flour, saffron, dry yeast, and cardamom for making the sweet dumpling.
These fried balls are soft and airy on the inside and crunchy on the outside. The great way to savor this is to take a whole dumpling in the mouth and enjoy it, so it will be smart to make the balls little. It can be served as a dessert or a snack. A light shower of date syrup or honey and sesame seeds sprinkled top for that delightful crunchy flavor. The secret of making crunchy and softballs lies in the perfect heat of the oil.
5. Balaleet
Balaleet is a traditional sweet and delicious dish popular in the Arabic countries of the Persian Gulf. It's a popular breakfast dish in the UAE, and it can be served either hot or cold. It contains vermicelli sweetened with sugar, rose water, cardamom, saffron, and a thin egg omelet. Served with sautéed onions or potatoes. Balaleet is traditionally arab food served during the holidays of Eid along with boiled garbanzo beans and black-eyed peas. Cardamom and saffron are the main ingredients that add more flavors to the cuisine.
The blend of sweet and eggsknown since the early Bedouins; vermicelli's expansion just indeed came from the traders who acquainted pasta with the Middle East during the Middle Ages.
6. Nicoise salad
Nicoise Salad is a composed salad that originated in the French city of Nice. It is one of the most famous arabic food name. This colorful salad comprises potatoes, green beans, tomatoes, onions, hard-boiled eggs, tuna, black olives, and anchovies.
This Arab food can be served with olive oil and vinegar dressing. Freshly cooked tuna and hard-boiled eggs are used as toppings for this salad. The sauce includes vinegar, olive oil, mustard, and black pepper.
7. Harees
Harees is a traditional Arabic one-pot food made of wheat, mixed with chicken or lamb meat.
Customary, Arabs made it in large quantities and shared it with neighbors and poor peoples. As it is made with meat, it has a lot of calories. Harees is enhanced with sugar, cinnamon, and butter.
8. Hummus and meat
Hummus bil lahmeh is a traditional Middle Eastern arab food served with hot & spicy meat, garnished with pomegranates and roasted nuts. It is a part of Middle Eastern Mezze, usually prepared on special occasions.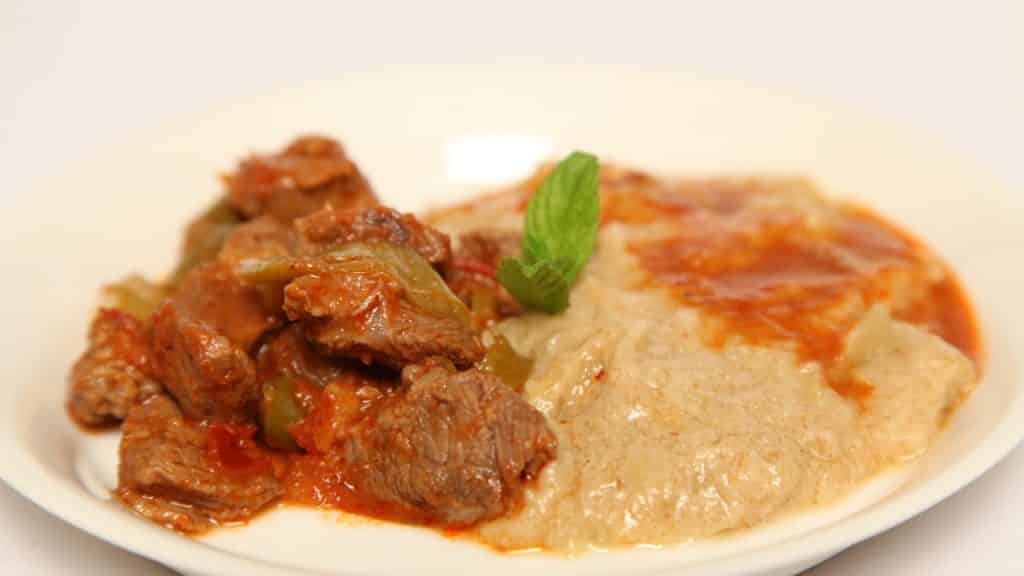 9. Pita Bread with Falafel Hummus
Falafel is one of the most favorite Middle Eastern snacks. Deep-fried ball traditionally made from chickpeas (Kabuli channa).Hummus is a creamy dip made from chickpeas mixed with tahini, lemon juice, and garlic.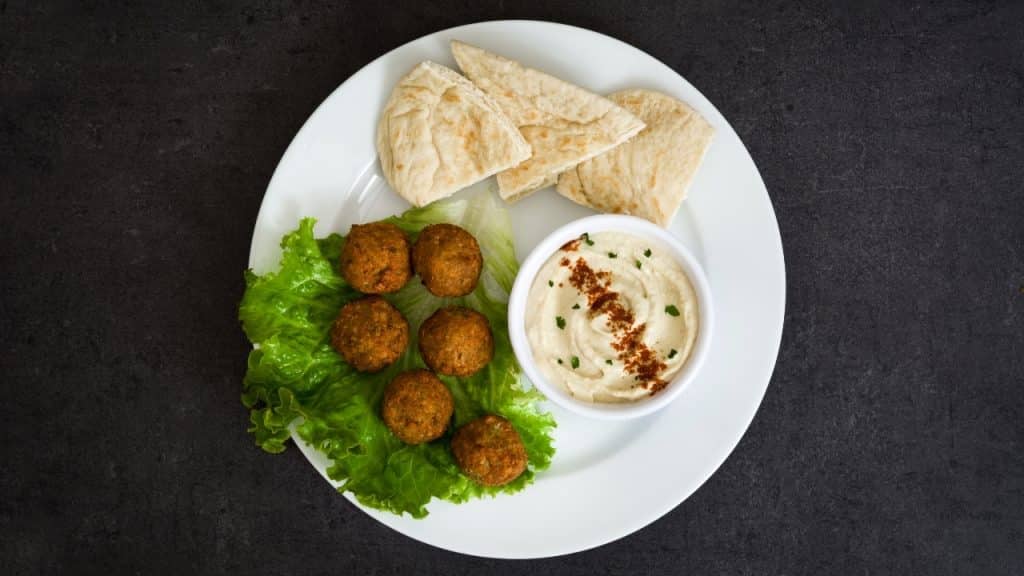 Falafel and hummus are stuffed in soft and fluffy bread called Pita, which is used as everyday bread in the Middle East. Falafel stuffed in pita bread served with tahini sauce, fresh lettuce, and slices of fresh cucumbers and tomatoes. Pita Bread with Falafel Hummus is a must eat arab foods !!!
10. Chicken Shawarma
Chicken Shawarma is an authentic and popular Middle Eastern Arabic Food. The delicious chicken dish, marinated with flavourful spices and served with a salad, sandwich in warmed flatbread with cucumber sauce or Hummus.
FAQ's :
What are the most famous arabic food names?
Hummus,Manakeesh,Tabouleh,Fattoush,Halloumi
What is the most famous and ordinary dish in Saudi Arabia?
Kabsa. It is a Blend of Mixed Rice, Vegetables(Greens), Meat, and Other Ingredients.
What are the common Beverages in the United Arab Emirates?
Tea and Coffee. Normally, they served by supplementing cardamom and Saffrons.
What are the more favored meats in Arab Countries?
Goat, Beef, and Camel Meats are more favored in Arabic countries.
What is the Most common Arab breakfast?
Falafel, Hums with Meat, Blended of Falafel, Green Salad, Fattah Meat (Chickpeas and friend bread topped with fresh meat), Grape Leaves, Hommos Beiruti(Lebanese choice of Hummus, Consumed with Pita Bread)